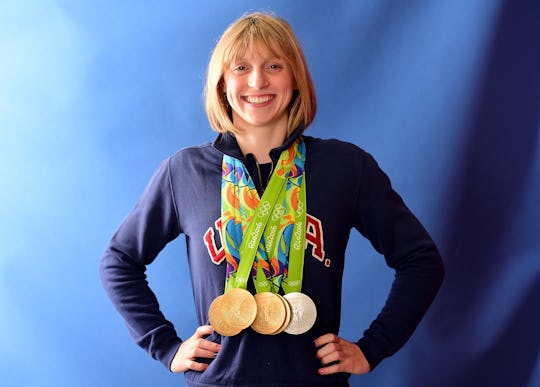 Harry How/Getty Images Sport/Getty Images
How Long Could Katie Ledecky Be This Good? She's Already Setting New Goals
Having won four gold medals and one silver during the course of the Rio Olympics this year, swimmer Katie Ledecky successfully smashed her personal goals and blew the United States' collective mind in the process. Watching her repeatedly obliterate her competition in distance events, chillin' at the wall waiting for both the other swimmers and the yellow world record line to catch up with her, it's easy to admiringly wonder whether her intense momentum could possibly be sustainable, and how long Katie Ledecky could be this good. Like a true champion, though, 19-year-old Ledecky is instead thinking about how she can improve as she resets her goals.
Coming into the 2016 Games in Rio, Ledecky had already earned one gold in the 800-meter freestyle in London four years before. Over the course of the first week of her sophomore Olympics, she'd bolster her medal count to six, earning gold in the 200-meter, 400-meter, 800-meter, and the 4-by-200-meter relay, and silver in the 4-by-100-meter free. Her insane dominance — like when she out swam her closest competitor by a full 11 seconds in the 800-meter on Friday, a margin that left her totally alone in the photos of her finish — was so complete and striking that it was almost comical.
With a time of 8:04.79, Ledecky obliterated both the world record and the Olympic record in that race. She sprints her distance events in a way that The Washington Post's Dave Sheinin at a speed that would be like world's fastest man Usain Bolt sprinting a marathon at the pace he completes the 100-meter dash. Is this woman even human? Can she truly repeat this kind of incredible showing for Tokyo 2020, let alone best it?
That's the plan. Ledecky has opted not to go pro — passing up the opportunity to earn a ton of cash off endorsements in the process — in favor of swimming on scholarship for Stanford starting this fall. So, she'll leave her coach of the past three years, Bruce Gemmell, for that new adventure, NBC's Olympics site reported, but he's sure she'll keep getting better:
Does that mean times are faster? I'm not sure it does. She's been the most dominant female freestyler probably ever. Maybe the most dominant female swimmer over a four-year period, ever… There can be new challenges. There can be new doors. There can be new opportunities. I guess I just don't want to get hung on the faster is necessarily better, and if it's not faster it's not better.
Ledecky has repeatedly said that there is no secret to her success — and, indeed, experts told Sheinen of the Post that her best asset is her mindset and determination to win. That, and the fact that she trains almost exclusively alongside elite male swimmers, because they're the only one who can push her to be better in the pool.
"She's proven to be the best in the world, but she's still looking to get better," said Russell Mark, a USA Swimming high-performance consultant, told the Sheinen. "I wouldn't be offended if someone as good as her was like, 'Hey, I'm just going to train and keep doing what I'm doing.' But she's still attacking these opportunities to get better."
Even the very best athletes sometimes need time off to rejuvenate their bodies and minds. Michael Phelps, who is the most decorated Olympian in history and once called Ledecky a "stud," actually retired after the 2012 Games in London before returning to the pool ahead of Rio. Gymnast Aly Raisman took a yearlong break from training in between London and Rio because, she told ESPN, she'd been living and breathing gymnastics since she was a toddler.
Ledecky is also seeking balance in her life, telling NBC that her next project is getting "all the stuff" for her dorm room. She's been able to avoid any major injuries so far in her career (and it's certainly been an impressive one so far), so it seems as though she knows how to challenge herself without sacrificing her body's wellbeing. Whatever Katie Ledecky's doing, it's working for her, and I can't wait to see what else she'll accomplish.