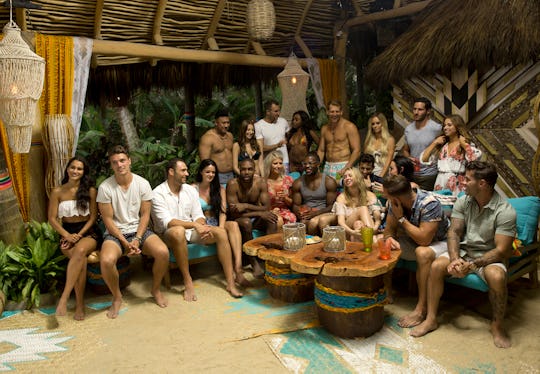 Paul Hebert/ABC
'Bachelor In Paradise' Season 4 Took Almost No Time To Film
Summer may be winding down, but Bachelor Nation still has the quintessential summer show to look forward to: Bachelor in Paradise. A marriage between the two other shows in the franchise, Paradise brings together contestants mostly from the latest Bachelor and Bachelorette seasons. This round has already stirred up controversy towards the beginning of filming due to a sexual assault allegation, which caused production to stop and leave the fate of the season uncertain. How did the rest of filming pan out, though? How long did Bachelor in Paradise Season 4 film? There was a brief uncertainty about whether or not this season would finish at all.
According to Reality Steve, last season of Bachelor in Paradise was filmed between June 8 and June 26 — less than three weeks. Yes, Grant and Lace and Evan and Carly seemed to fall in love in 18 days (well, Evan and Carly actually got hitched so it's certainly possible). This year was different from the start, because production was quickly halted due to assault allegations. Fox News and Associated Press reported that the incident happened on June 4. In the promo for this season, a contestant said Corinne and DeMario were in the pool "30 minute into Paradise," so I'll assume it was the first day — or one of the first days.
Filming was halted on June 11, which was just a week after the alleged incident occurred (and presumably a week after filming started in the first place). After the allegations were dropped, it picked up again 10 days later on June 21. The day filming completed isn't known, but footage from the season first came out August 3 — so it's safe to assume it was sometime in July. If the schedule was similar to last season's, then it would only be around three weeks — besides the production gap due to the investigation.
Again, three weeks (or less than, actually) doesn't seem like a lot of time to fall in love, but there is evidence that says otherwise (see Evan and Carly). Besides the stop in production, this season will also be different due to changes in how much the contestants can drink (no more than two drinks per hour). This is because ABC Entertainment president Channing Dungey called the investigation a "wake up call." There's no evidence, though, that the time frame of filming has changed; at least not drastically. If you want to get really specific, Reality Steve has reported that BIP Season 4 underwent 14 days of filming, which is four days less than the usual amount.
Suffice to say, it's definitely a short amount of time to get to know someone — and Bachelor Nation will just have to watch and see if contestants fall in love regardless.