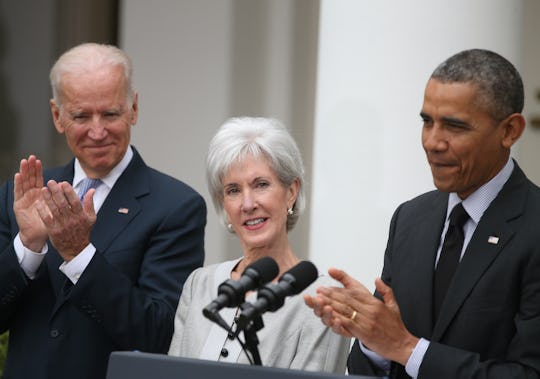 Mark Wilson/Getty Images News/Getty Images
Trump Says It's Taking Too Long To Confirm Cabinet
As is becoming the norm lately, President Donald Trump began the day with an angry early-morning tweet, this time complaining (once again) that his full Cabinet has yet to be approved. So unfair! Obstructionist Democrats! Wait a sec, how long did it take to confirm Obama's cabinet? What's that now? He waited longer than any president, ever? Oh, OK then. Maybe Trump should settle down a bit on this one.
Trump has had all but two of his Cabinet picks confirmed; Department of Labor pick Alexander Acosta, and Department of Agriculture pick and former Georgia Gov. Sonny Perdue are the only ones still awaiting hearings. And the long wait on a Labor secretary is due to the first nominee, Andrew Puzder, withdrawing amid scandal. The Senate has actually confirmed four Cabinet members this week alone – Secretary of Commerce Wilbur Ross, Secretary of the Interior Ryan Zinke, Secretary of Housing and Urban Development Ben Carson, and Secretary of Energy Rick Perry – making this a particularly curious time to complain. With only two left after just six weeks in office (yes, we've made it that long, folks), he's actually on track to beat not only Obama to a full Cabinet, but Presidents Bill Clinton and George H.W. Bush, as well.
All but one of H.W. Bush's Cabinet picks were confirmed by the first week of March, but the Democrat-controlled Senate voted to reject his first choice for Defense, Texas Sen. John G. Tower, a week later. According to The Washington Post, it was the first time in history that a new president's first choice was rejected, and just the ninth Cabinet-level nominee rejection ever. One week after that, Dick Cheney was confirmed as secretary of Defense. Total wait time for Bush: 56 Days.
Clinton had a relatively easier time installing his Cabinet, as his party had control of the Senate at the time. All but one of his appointments were confirmed during his first two days in office, but that last one was a doozy. The first Attorney General nominee, Zoe E. Baird, withdrew after it came to light that she had employed two undocumented domestic workers. Two weeks later, Clinton was set to name his second choice, Judge Kimba Wood, when it was revealed that she had also once hired an undocumented employee. Under the law at the time, Wood's actions were not illegal, and the employee did eventually obtain legal residency, but the optics weren't great. She, too, withdrew. One week later, Clinton nominated Janet Reno, and one month after that, on March 11, the first woman Attorney General was confirmed. Total wait time for Clinton: 50 Days.
George W. Bush, whose party also had control of the Senate, had his entire cabinet confirmed in just 11 days, which is perhaps the only figure that Trump was comparing himself to when he falsely claimed that his Cabinet had faced "the longest such delay in the history of our country" after just 18 days in office. Somehow he must have forgotten about Obama. While six of his picks were confirmed on Inauguration Day, and another five within the two weeks that followed, it took over a month to confirm Labor Secretary Hilda Solis. His first two choices for Commerce withdrew, and his third choice, Gary Locke, was confirmed 63 days after Obama took office. His first choice for Health and Human Services withdrew, and the United States spent 98 days without a Secretary of HHS — during the swine flu epidemic, no less — before Kathleen Sebelius was confirmed.
But wait, there's more! It took 98 days for Obama to fill his Cabinet, but that wasn't the longest it took to confirm any of his appointments. During his eight years in office, he also had occasion to nominate replacements, and thanks to the Republican Senate takeover, he holds the record for the three longest waits in between nominations and confirmations since record-keeping began during the Carter administration. Labor Secretary Thomas Perez took 121 days, Commerce Secretary John Bryson took 126 days, and Attorney General Loretta Lynch took 161 days. In fact, among the top 25 longest waits, Obama's picks made up 13 of them. According to FiveThirtyEight, Obama nominees waited an average of 35 days to be confirmed, while H.W. Bush's waited 21 days on average, and W. Bush's and Clinton's only 16 days. Perhaps Trump's next appointment should be an official White House fact-checker.