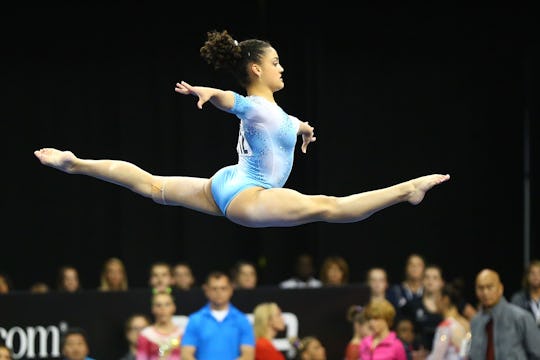 Dilip Vishwanat/Getty Images Sport/Getty Images
How Long Do Gymnastics Routines Need To Be? They're Certainly Impressive
The week of the Rio Olympics 2016 is here, and Olympic gymnastics fans are already rejoicing. The Games will kick off Friday Aug. 5, and gymnastics will start Saturday. Gymnastics fans around the world will likely excitedly tune in this weekend when the U.S Men's Gymnastics Team – which includes Sam Mikulak, Jake Dalton, Alex Naddour, Chris Brooks, and Danell Leyva — and the U.S. Women's Gymnastics Team — which includes Simone Biles, Gabby Douglas, Madison Kocian, Laurie Hernandez, and Aly Raisman – kick off the buzz-worthy festivities for fans all over the world. The women's team has inspired many with its representation of women of color, and for having the first U.S.-born Latina member (Hernandez) since 1984. So as fans prepare to tune in for the exciting events in Brazil, it's important to know what rules to look out for – like, how long do gymnastic routines need to be? After all, they're certainly the best part.
According to NBC's Olympics coverage on rules and regulations, the women's floor routines – or artistic gymnastics — can't exceed 90 seconds. Women perform to music, and the routine typically falls within 70 to 90 seconds, NBC reported. It's hard to imagine that so much of the magic that happens on the floor, only lasts for less than two minutes, but apparently these fierce competitors make it happen.
Alternatively, for the men's gymnastics teams, their floor routines typically last between 50 to 70 seconds, with 70 seconds as the limit. The other major difference for men's artistic gymnastics is that no music is played while the male gymnasts compete. (But a little music never hurt anybody, right?) Paris McGee Jr., a junior gymnast on Ohio State's men's gymnastic team who performs floor routines by the women's Olympic team (including routines by athletes like Douglas and Hernandez) spoke to The Huffington Post recently about it all.
"It's always been my favorite, because I love to perform," McGee Jr. told the Huffington Post referencing his love for floor routines. (Who doesn't?)
It's not just the spectators who enjoy it either. Hernandez, 16, who was nicknamed "Baby Shakira" for her impressive dancer-esque style on floor routines, explained to NBC why she enjoys the floor.
"I love competing floor," she said. "Because the energy of the crowd is really nice and I can show my personality when I'm out there."
Watching the Olympic gymnastics' floor routines are beyond impressive, and their dedication and training is almost imaginable. Of course, after witnessing the pure joy in McGee's performance at Ohio State, maybe music for men's floor routines might not be such a bad idea.