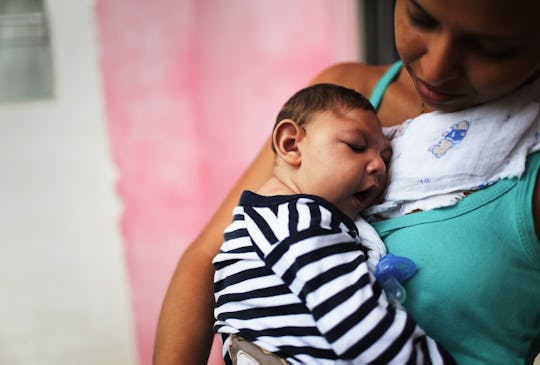 Mario Tama/Getty Images News/Getty Images
How Long Does Zika Testing Take? Researchers Are Working To Speed Up The Testing Process
With concerns about the Zika virus' spread across Latin America and the Caribbean, and the approaching 2016 Summer Olympic games being held in Zika-infected Brazil, many travelers are going to be scared that every rash, ache and fever might be the result of Zika infection. And while symptoms for Zika are generally mild, pregnant women, women who could become pregnant, and their sexual partners, need to be aware of their Zika status in order to prevent microcephaly, a catastrophic birth defect that has been linked to Zika infection in pregnant women. So how long does Zika testing take? Probably longer than anyone would like.
According to the Centers for Disease Control, testing for the Zika virus can be performed within the first week of the onset of symptoms, which include fever, rash, joint pain and red eyes. It's important to get tested if you've recently traveled to an area where Zika has been identified. The disease can be diagnosed with a urine test called a "real-time reverse transcription-polymerase chain reaction" (rRT-PCR). But while the testing itself seems pretty straight forward, processing the results can take weeks, perhaps even months.
The tests are submitted to the CDC, and "results will typically be available approximately 3 weeks after specimen receipt," the CDC Zika testing instructions stated. But, it added, "Reporting times may be longer during summer months or when arbovirus activity increases." So it's a pretty safe bet that, in the midst of an alarming Zika outbreak last year and huge numbers of travelers headed toward Zika-infected Brazil, wait times for testing are likely going to take longer than the minimum 3 weeks.
In an effort to speed up testing and diagnosis, at the end of April, the Food and Drug administration authorized Quest Diagnostics to test for Zika commercially, meaning that doctors can send patients they suspect might have contracted Zika to Quest for a $500 test and get results within three to five days after the sample is received.
So imagine you're a woman who thinks she might be exposed and becomes pregnant? What if you can't afford the $500 commercial test? Can you imagine having to wait for weeks to learn whether your baby is at risk for microcephaly? The wait seems torturous, and hopefully a test will be available that helps eliminate both the wait and the high cost.
Researchers at Arizona State University led by Dr. Alexander Green just announced the development of a $1 Zika test that shows results in as little as two hours anywhere in the world. How can we get that fast tracked?
Researchers at MIT are working on a similar $1 Zika test too.
But that takes money, and funding to fight Zika, boost testing, and develop a vaccine is stalled in Congress. The White House submitted a request in February for $1.9 billion in funding to combat Zika, which has yet to be approved. As a stop gap measure, more than $600 million previously earmarked to fight Ebola was re-allocated toward fighting Zika. But that money isn't adequate, according to the CDC chief Dr. Tom Frieden, who expressed frustration that Congress left for a two-week break for Memorial Day without coming to an agreement on how to proceed with Zika funding.
With almost 300 women pregnant women in the United States infected with Zika, there is tremendous concern that things will only get worse over the summer.
"Imagine that you're standing by and you see someone drowning," Frieden said at the National Press Club about the spread of Zika, according to the Huffington Post. "And you have the ability to stop them from drowning, but you can't. Now multiply that by 1,000 or 100,000. That's what it feels like to know how to change the course of an epidemic and not be able to do it."