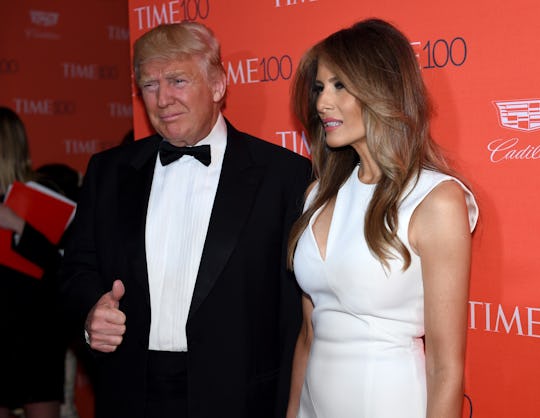 TIMOTHY A. CLARY/AFP/Getty Images
How Long Have Donald Trump & Melania Been Married? She Stands Beside Him No Matter What
As the 2016 presidential race heats up, the public will be seeing more and more of Donald Trump's wife, Melania. She'll be at his side at public appearances, debates, rallies, and, if he manages to unify the GOP, she'll be the First Lady of the United States. But even if she becomes First Lady, she's not his First Wife, so how long have Trump and Melania been married?
Melania Trump was born Melania Knauss in Slovenia in 1970. According to the Express, she began her modeling career at the young age of 16, but still went on to study design and architecture in her home country. In 1996, Melania moved to New York. By that point, she was already a world-renowned model who had been living between Milan and Paris, the fashion capitals of the world, and jet-setting everywhere else imaginable for high-fashion shoots. She has an impressive modeling resume, to say the least.
Melania first set eyes on Donald Trump, supposed billionaire and real estate developer turned potential world leader, during Fashion Week in the fall of 1998. It's impossible to know exactly went through her mind at that moment (love? fear? pity?). She hasn't shared much about their early relationship or courtship, but their wedding definitely garnered a lot of attention from the media, the fashion world, and the gossip hounds of New York society.
They were married in 2005 at Trump's Mar-a-Lago Resort in Palm Beach, Florida. According to Forbes, Melania wore a $100,000 Christian Dior dress with a 13-foot-long train and a 16-foot-long veil. It was covered in delicate beading, white roses, and diamonds. Their reception hall was filled with thousands of flowers, and whatever space was leftover was filled with the hundreds of guests, including Katie Couric, P. Diddy, Heidi Klum, and Shaquille O'Neal, according to The New York Times. Notably, presidential candidate Hillary Clinton and her husband were in attendance, but lately she hasn't been too vocal about that fact.
About a year after their lavish wedding, Melania gave birth to their son, Barron William Trump, in March 2006. He's Trump's fifth and youngest child, after Donald Jr., Ivanka, and Eric, whom he had with Czech model and socialite Ivana Zelníčková, and Tiffany, whom he had with actress Marla Maples. Trump was married to Zelníčková for 15 years, and Maples for six. His children range from age 38 (Donald Jr.) to age 10 (Barron).
Melania is known for her courtesy and her fierce love for her son, but she's also tried her hand at business. She's launched jewelry lines and skincare collections. When asked in 1999 by a prescient New York Times journalist what kind of First Lady she would be, she said, "I would be very traditional. Like Betty Ford or Jackie Kennedy. I would support him."