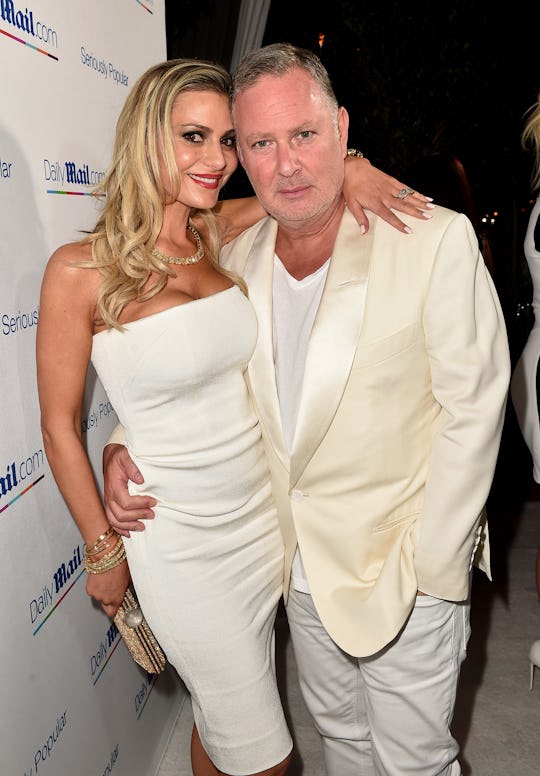 Alberto E. Rodriguez/Getty
Dorit & Paul Kemsley's Marriage Is Fairly New
We were first introduced to Dorit Kemsley on The Real Housewives of Beverly Hills Season 7, along with her music manager husband, Paul, more commonly known as P.K. But how long have Dorit and Paul Kemsley been married? While they've been together for a few years now, they are still newlyweds and have only been married for a little over a year.
Dorit and P.K. tied the knot in a lavish ceremony in New York City at the famous Rainbow Room on March 7, 2015. The ceremony and reception were featured in Wedding Style magazine. According to the outlet, Dorit and P.K. met through friends in New York City, where P.K. had been traveling for business and Dorit was living at the time. Dorit was to fly to Hong Kong the next day for work, and somehow P.K. convinced her to change her flight. Though he'd been living in Los Angeles at the time, he moved to New York six months later to be with the woman who was to become the love of his life. Though it may seem rather sudden, sometimes the whirlwind romances that seem to happen all at once are the loves that last the longest. I know we all have some anecdotal evidence in support of this, if no real data.
At their wedding, Dorit wore a gown by designer Naeem Khan, and he wore Tom Ford. They were serenaded by their good friend and P.K.'s client, '80s music icon Boy George at the reception. "I was filled with love and completely euphoric," Dorit said of their extravagant wedding in the same interview with Wedding Style magazine. From the photos of their nuptials, the two look totally in love and blissfully happy, as you should be on your wedding, of course. Though it has only been about a year and a half since the big day, they seem to have a strong and loving relationship.
And it's not as if they haven't been together for a few years. At the time of their marriage they had already had one child together. Their son, Jagger, was born in 2014. Their daughter, a little girl named Phoenix, was born in February of 2016, just a year after their gorgeous wedding. Though they were married in New York, they soon after moved to Los Angeles, where we now get to watch them be fabulous and in love with our favorite Beverly Hills women. Who knows how long Dorit will last with the other wives, but it definitely looks like P.K. is around for the long haul.