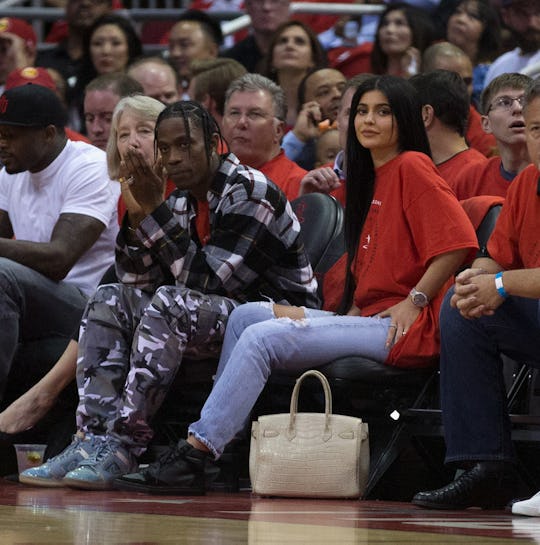 Bob Levey/Getty Images Sport/Getty Images
Here's How Long Kylie Jenner & Travis Scott Have Been Together
When the news cycle is as unforgiving as it is these days, one can't help but be excited when one hears some good old fashioned baby news. Yes, world, according to TMZ Kylie Jenner, 20, is reportedly pregnant. People has confirmed the initial reports, making Jenner's boyfriend, Travis Scott, a father-to-be. But how long have Kylie Jenner and Travis Scott been together? Well, it's not long, but as that old saying goes that you just can't help but regurgitate when you don't want to let the negativity get you down: "It's not the years in your life that count, it's the life in your years."
Romper has reached out to Jenner and Scott, but have not heard back at the time of publication.
According to TMZ, Jenner and Scott started dating in April. Sure, objectively you could argue five months isn't a long time to be with someone before you up and decide to procreate. But to play the devil's advocate, here (because who needs to shame someone else for their own personal, romantic, and reproductive choices?) I was with my partner for all of six months before we had a baby. Our "baby" is now a rambunctious 3-year-old toddler, and we're as happy now as we were the day we met. So if you're thinking about shaming the famous couple for deciding to have a baby so soon in their relationship, I say: save it.
Not much else is known about Jenner's pregnancy. Reportedly, according to TMZ and although it hasn't been confirmed, Scott was bragging to friends about having a baby girl. According to BabyCenter, most pregnant people and their partners (if they have any) find out the sex of their fetus between 16 to 30 weeks gestation. That would mean, perhaps, that Jenner can expect to give birth sometime towards the end of January, 2018. None of the aforementioned is either confirmed and/or has been released by the parents-to-be and/or their families, though.
Still, a lack of information hasn't kept the Jenner/Scott fanbase from taking to Twitter to give their heartfelt congratulations (and, yes, to attack the 20-year-old reality star, because this wouldn't be America if we didn't shame a woman for doing whatever it is she wants to do with her body). Here are just a few of the reactions Twitter users had when they heard the Jenner Baby news:
Rumors first started flying that Jenner and Scott were dating after they were spotted holding hands at Coachella in late-April of this year, according to TMZ. The couple was also spotted at a Houston Rockets-Oklahoma City Thunder game, court-side, of course, when Scott was photographed touching Jenner's thigh. Sources did tell TMZ the couple has "been close for years, since they both appeared in a Justine Skye music video."
Of course, Kylie Jenner is a household name, thanks to her famous family, their hit reality television show Keeping Up With The Kardashians, and her makeup line and other entrepreneurial ventures. But for those who don't know, Travis Scott is no slouch himself. The Houston, Texas native is a successful rapper, singer, songwriter, and record producer, signed with Epic Records.
Pregnancy, even when experienced by the richest, most successful of us, is never easy. So regardless of whatever your personal thoughts and/or feelings may be in regards to Jenner, her family, or Scott, one thing is for certain: this new, young couple will need (and automatically deserves) all the love, support, and guidance they can get. Becoming parents can, and usually does, change a couple's romantic relationship. Hopefully, for Jenner and Scott, that change is for the better and this pregnancy is just the beginning.
Watch Romper's new video series, Romper's Doula Diaries:
Check out the entire Romper's Doula Diaries series and other videos on Facebook and the Bustle app across Apple TV, Roku, and Amazon Fire TV.