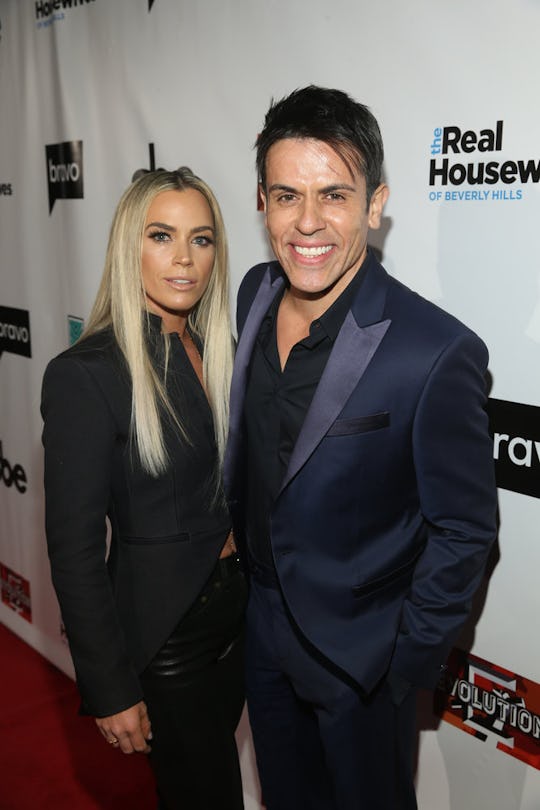 Jesse Grant/Bravo
'RHOBH' Star Teddi Mellencamp & Her Husband Share An Interesting History
In a television world that thrives on drama, it's definitely refreshing to see a stable relationship that thrives on mutual admiration and respect instead. For example, RHOBH newcomer Teddi Mellencamp and her husband Edwin Arroyave. So how long have Teddi Mellencamp and her husband been married? Despite getting off to an unconventional start, Teddi and her husband have maintained their relationship for the better part of a decade. They now share a lovely life, a TV series, and two adorable children, as well as Edwin's daughter from a previous relationship.
When Teddi was first introduced to the Real Housewives of Beverly Hills audience, obviously the first thing everyone wanted to know about was her dad. Yes, Teddi's father is the iconic John Mellencamp, who, yes, is in the Rock and Roll Hall of Fame. Despite being the daughter of rock royalty, Teddi insists that she was raised with "grounded values" and to truly understand the value of money — and to know that it's not everything. Clearly she hasn't spent enough time with these ladies. But in her introduction she also touched on her relationship with her husband, which is what really drew me into her. If only because it's such a fun story.
Teddi and her husband have been together for nine years, but that wasn't exactly the plan when they first got together. In her intro, Teddi revealed, "I could try to sugarcoat it, but it was a one-night stand." She then amended this statement by saying, "It was supposed to be a one-night stand! I woke up with some guy I thought's name was Edward. His name is Edwin!" Hey, who among us, am I right? In any case, it looks like it all turned out to be a blessing in disguise. This fateful night was almost 10 years ago, and now the two appear to be happier than ever.
In her blog for the show, Teddi wrote, "We've been together for nine years and have our beautiful children, so the story definitely has a happy ending." Yes, I would say so! The couple eventually got married in Paris and then had their two children, Slate who is now 6 and Cruz, who's only 3.
In an Instagram post from 2015, Edwin says that the couple got married four years previously, indicating that they were officially wed in July of 2011. This means that though they've been together for nine years, they've been married for about six and a half. In the touching caption, Edwin writes, "4 years today you married me, made my life complete and brought great balance to my life. Looking forward to spending the rest of my life with you Mrs. Arroyave. Happy Anniversary." You see what I mean about this couple being #RelationshipGoals — which by the way is a phrase I very rarely use.
Perhaps the most charming aspect of the couple is their willingness to tease each other and be natural around one another. In a subsequent blog, Teddi joked about Edwin's past life as a background dancer when he had "eyebrows thinner than his white, tight tank top." She also stated that while she's the thrifty one in the couple, he's the big spender. Talking about how she wanted to simply bring a bottle of wine they had in the house to dinner at Dorit Kemsley's house, he convinced her they needed to get a nice bottle instead. "I guess that's the key to a successful marriage: Put one cheap ass with an obscene spender, and you get marital bliss!" Hey, maybe she's onto something here. Either way, I'm happy they're so happy together.
Check out Romper's new video series, Romper's Doula Diaries:
Watch full episodes of Romper's Doula Diaries on Facebook Watch.