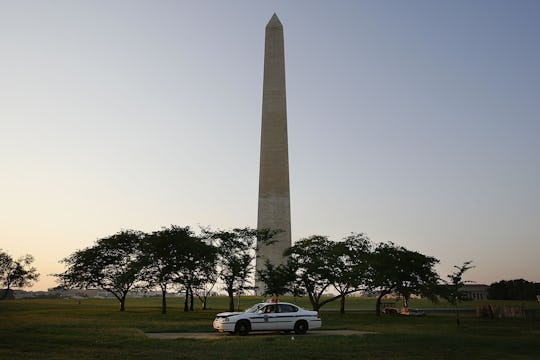 Chip Somodevilla/Getty Images News/Getty Images
How Long Have The DC Girls Been Missing?
Recently, social media has been acting as a force for good, with users on Twitter and Facebook making news about young missing girls in Washington, D.C. go viral this week. While some of the shared information was incorrect, it still brought an important issue to light, and there has been renewed interest in the missing girls' cases. So who are the missing girls, and just how long have the D.C. girls been missing?
According to the Associated Press, there have been 501 cases of missing juveniles in D.C. since the beginning of 2017, and many of those were black or Latino children. The Metropolitan Police Department said there hasn't actually been an increase in the amount of missing youth in D.C. — the department has simply been posting them to social media more frequently. The increase in posting, Commander Chanel Dickerson told NBC, led people to believe D.C. girls were being taken.
"Because of the number of releases, there have been concerns that young girls in the District of Columbia are victims of human trafficking or have been kidnapped," Dickerson told NBC. There's no evidence that D.C. has a human trafficking problem, however, and all of the youth who have gone missing this year appear to have left their homes voluntarily.
There are currently 13 underage girls listed as currently missing on the D.C. Police Department's website. Seven were reported missing in March, one was reported missing in February, and one went missing in January. Two girls under 18 have been missing since late 2016, and one girl has been missing since March 2014. Details about the missing girls can be found on the police department's website.
There are also six missing boys under the age of 18, and several older missing people in D.C., with a total of 29 of 2017's 828 missing persons cases still open. D.C. Mayor Muriel Bowser announced on Friday that the city will be putting more resources towards finding missing children. Kevin Harris, a spokesman for Bowser, told The Washington Post:
Often times, these girls are repeat runaways. So if we really want to help solve this problem and bring down the numbers, we have to break the cycle of young people, especially young girls, who repeatedly run away from home.
Breaking that cycle can't fall to police alone, and the fact that children have run away doesn't mean they're in less danger or that they can safely return home. According to the National Runaway Safeline, more than 70 percent of runaway or throwaway children are in danger of physical or sexual abuse, and 80 percent of runaway girls report instances of abuse. Runaway children are also at a higher risk of human trafficking, victimization, and, later, incarceration.
Bowser's office told The Washington Post that the city will be assembling a group to help determine the social services needed to stabilize missing children's home lives. The city will also be putting more funding towards organizations that work with vulnerable youth and assigning more police to missing children cases.
The increased amount of attention on the missing teens in D.C. may have included misinformation, but in the long run, it was helpful: the mayor will be increasing resources to help affected children, and people have started paying more attention to children leaving their homes.
Those who want to help missing girls in D.C. should continue sharing factual information about their cases and consider donating to a missing children's causes, such as the Black and Missing Foundation or the National Center for Missing and Exploited Children.