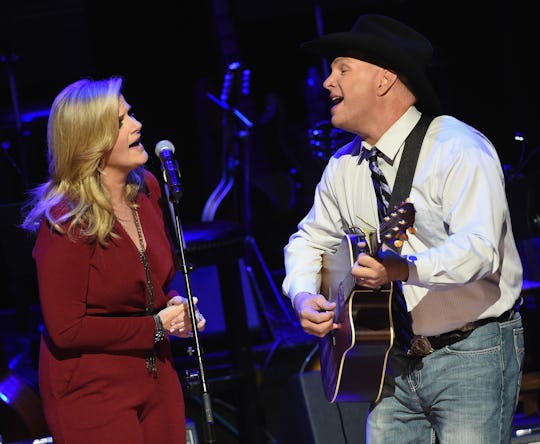 Rick Diamond/Getty Images Entertainment/Getty Images
How Long Have Trisha Yearwood & Garth Brooks Been Married?
Trisha and Garth are country music's reigning couple, and probably one of its most well-known, apart from Jay Z and Beyonce. But how long have Trisha Yearwood and Garth Brooks been married? Forever and a day, really. Actually, just since 2005, and they're still going strong. The couple met through a mutual friend, songwriter Kent Blazy, but Brooks had just married to his then-wife Sandy Mahl. The country star told Ellen Degeneres in 2013 that it was odd to meet Yearwood while he was married to someone else. He told Blazy at the time he had a feeling he had "just met his wife," but he had been married for just over a year to his college sweetheart.
"This is who you went to college with, and you were married in front of God and your family and everything," he said. "So you keep hacking, and you work and you work and you work. And then comes that time where you're looking at the rest of your life going, 'How do you want to live it?'" In 2000, Mahl and Brooks decided to call it quits, after having three children together.
Yearwood was reportedly also newly single and the two lovebirds started hanging out together and falling in love. If anything, their relationship is proof that love is never simple.
The two are super open when it comes to talking about how they make their marriage work, despite busy tour schedules. Just before their 10 anniversary, they were both getting off tour. Yearwood told Entertainment Tonight that she hoped to do "something crazy" like sleeping in for once. Brooks had some other ideas. He told the entertainment news outlet that he would do "whatever ever she wants," but "if I'm any kind of husband I'll have some surprises up my sleeve — hopefully ones she likes."
Yearwood said that, like any marriage, theirs involves a lot of compromise, but that she was "proud" of their relationship. "We made a conscious choice to be together," she said. Yearwood has been married twice, so she knows what it takes to make things work apparently now that her and Brooks have been together so long. Her husband is pretty romantic, too. He told Ellen in 2013 that he "never knew it could be like this; that everyday you can wake up and feel like this."
He continued by saying "she's the bomb, man. She does it all." Compromise and mutual respect — mixed with a little love at first sight — sounds more like a Disney movie than a country music power couple. Keep going, guys.