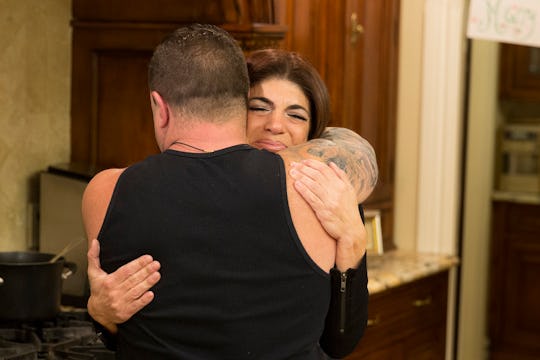 Greg Endries/Bravo
How Long Is Joe Giudice In Prison? The 'Real Housewives' Star Serves His Time This Season
Real Housewives of New Jersey Season 7 premieres Sunday, July 10, and the first part of the season will be dedicated to Teresa's triumphant return from prison, followed by the few short weeks the Giudice family gets to spend together before Joe reports to federal prison to serve his sentence. Teresa was originally slated for a 15-month stint in prison, after being indicted on federal fraud charges, but she was released after 11 and a half months. So how long will Joe Giudice be in prison?
He has a significantly longer sentence to serve than his wife, since Joe's charges were more serious. Joe pleaded guilty to conspiracy and bankruptcy fraud, for which he was handed a 41-month sentence. That's over three years of prison time. He began serving out his sentence in March of 2016, after Teresa came home the previous December, so it looks like the family was able to spend the holidays together one last time before Joe left. While he definitely has much longer to serve than his wife did, Joe has already had five months knocked off his sentence, and he is currently slated to be released in March of 2019.
The other defining factor in Joe's case is that, since he's an Italian citizen, he's technically a candidate to be deported back to Italy after he serves his sentence. Teresa has always insisted that if Joe were to get deported, the whole family would move back to Italy together, but that would mean 15-year-old Gia, 11-year-old Gabriella, 10-year-old Milania, and 6-year-old Audriana would all have to emigrate. Since Gia could be heading off to college by the time Joe gets out, it's possible that she might stay in the States for school while her family lives overseas, but there is still time to see how that plays out.
For her part, Teresa says that the family will be reunited no matter what, telling GMA in an interview, "He's gonna be home. We're gonna be together. Our family's gonna be reunited again, and that's what I'm looking forward to."
She also reported that while Joe has been in prison, the couple talks and emails every day, and she sees him once a week. It's not clear how often the kids get to see their dad, but it's possible this season will show that.