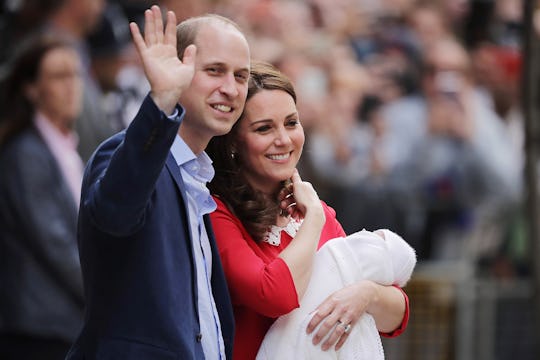 Dan Kitwood/Getty Images Entertainment/Getty Images
Here's When Kate Middleton Is Expected To Return From Maternity Leave With Prince Louis
It's easy to forget that the royal family members actually have jobs. To the rest of us who are trapped in an office all day, their days spent at sporting events and public appearances can look like a lot of fun. But they are working nonetheless, and that means they also occasionally take time off for vacation or maternity leave, like the Duchess of Cambridge, Kate Middleton, is doing right now to have settle into life with her new baby, Prince Louis. So just how long is Kate Middleton's maternity leave with the newest royal?
Middleton gave birth to her adorable son on April 23. Remember how in awe the world was to see her looking so fresh and calm holding Prince Louis on the steps of the hospital just seven hour later? At the time like Prince Louis' birth, she'd already been on maternity leave for a few weeks as her last official event was March 22, according to USA Today. And ABC News has reported, her maternity leave with her third child would last about six months. So if her maternity leave began in March, and it is now June, Middleton is reportedly expected to return to her royal duties sometime this fall, perhaps September or October.
Maternity leave doesn't mean she hasn't left Kensington Palace at all though. She's been seen around town a few times actually, most notably at the wedding of Prince Harry and the Duchess of Sussex, Meghan Markle, and at the queen's birthday parade, Trooping the Colour, according to Town & Country. She also joined her husband, Prince William, and the rest of the royal family for church on Easter Sunday, according to The Mirror.
However, as royal watchers may have noticed, she is skipping the Royal Ascot, taking place right now, which she also did after the birth of Prince Charlotte in 2015, according to People.
In May, the Duchess wrote an open letter in honor of the U.K.'s Children's Hospice Week, according to Harper's Bazaar, and she shared her priorities as a mother. "Spending quality time together is such an important aspect of family life and for me, as a mother, it is the simple family moments like playing outside together that I cherish," she wrote, as reported by Harper's Bazaar.
She's been able to enjoy some of that bonding time with her children during her maternity leave. She was seen on Sunday, June 10, playing with her Prince George and Princess Charlotte while cheering on her husband at a polo match, according to Good Housekeeping. It's nice to see her just being a mom, running and playing with her kids and enjoying the time away from the microscope of royal life.
It's fair to assume that Prince Louis, who was absent and away from cameras that day, was at home with the royal nanny, Maria Borrallo. The nanny has cared for all three of the couple's children since Prince George was 8 months old, according to The Sun. She is a graduate of a Norland College, an elite school that trains nannies in everything from domestic skills to defensive driving and combating things like cyber stalkers, reported The Sun.
Middleton is expected to utilize her entire maternity leave to rest and focus on her family, according to the Daily Mail. After giving birth to Prince George, she returned to work in six weeks. With Princess Charlotte, she took two months maternity leave, but the Daily Mail reported that she may have felt that time was too short. The paper spoke with a former midwife, Diana Woodhead, who works for The Woman's Health Clinic about the stress of royal appearances. "It's something that will take a lot longer than the few hours she is out of the house," Woodhead told the publication. "I imagine preparation for such events can take days, so there's no wonder she wants a bit of time back for this baby."
Moms certainly understand that these early days with baby fly by too fast. And with plenty of opportunities for royal events in the future, surely everyone is wishing Middleton well as she nests with her family. The world will be ready and watching for the Duchess when she comes back, but for now let life be all about just being a mom.