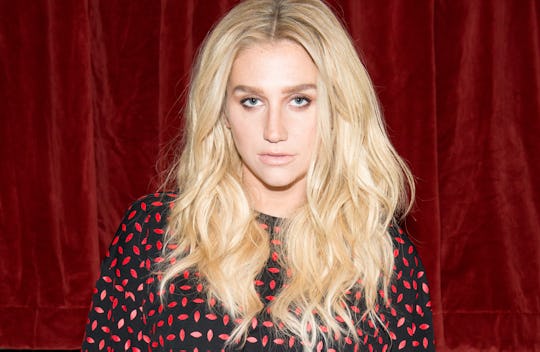 Noam Galai/Getty Images Entertainment/Getty Images
How Long Is Kesha Under Contract With Sony? She Might Not Release New Music For Years
The pop music star Kesha has been thrown into a different kind of spotlight in recent news. She has been embroiled in a legal battle for the past two years against her former mentor and producer, Dr. Luke, or Lukasz Gottwald. She claims Dr. Luke physically, mentally, and sexually abused her during their decade of collaboration and now wishes to end her contract with Sony Music and Kemosabe records, Dr. Luke's label, to continue making music without him. That preliminary injunction was denied by the court last week, so she must continue recording exclusively for the joined labels. But how long is Kesha under contract with Sony? Simply put, she likely won't be able to make music under any other label.
New York Supreme Court Justice Shirley Kornreich delivered her ruling that Kesha Rose Sebert, 28, must honor her contract with Dr. Luke's Kemosabe Records, and Sony. The contract stated that Kesha is required to record six more albums on top of the two she's already released. Animal was released in 2010, and Warrior came out in 2012. At that average production rate, Kesha could be locked into working with Sony (and potentially her alleged abuser) for the next 12 years of her musical career.
The turning point of the hearing came when Dr. Luke and his attorneys told Kornreich that Kesha would be allowed to record her next albums without his involvement, despite the $60 million he has invested into Kesha's career. After that claim, she said to Kesha's attorney, Mark Geragos, that it "decimates your argument." She continued:
You're asking the court to decimate a contract that was heavily negotiated and typical for the industry. My instinct is to do the commercially reasonable thing. She's being given the opportunity to record, she can record. She does not have to have any interface at all with Mr. Gottwald in recording or producing.
Dr. Luke blatantly denies Kesha's allegations of abuse, even going so far as to countersue her last year. He claimed that Kesha was acting out in "wanton dishonesty" to try to break her contract by any means. Dr. Luke's lawyer, Christine Lepera, released a statement on his behalf that maintained that all of Kesha's statements were false:
As set forth in the complaint that we have filed on behalf of Dr. Luke, Kesha and her mother are engaged in a campaign of publishing outrageous and untrue statements about Dr. Luke to third parties, including scurrilous and false statements of purported physical and mental abuse of Kesha.
Update: Linda Carbone, founder of Press Here, which represents Dr. Luke, issued the following statement to Romper regarding Kesha's allegations that Dr. Luke physically and mentally abused her:
Kesha's allegations against Dr. Luke are false, concocted to smear him publicly so that Kesha can get out of standard industry contracts that she entered into after she claims the alleged incident occurred. We have publicly insisted all along that Kesha should admit her lies and tell the truth. Everyone has a responsibility to learn the facts before condemning Dr. Luke in the media, particularly since Kesha swore under oath that her allegations are false. When the truth wins out in court, everyone will recognize that Kesha has victimized Dr. Luke and actual victims of sexual assault with her lies.
Kesha's suit against Dr. Luke is 27 pages long and details the ways Dr. Luke abused her: he supplied her with drugs and alcohol, took advantage of her, and "cruelly and incessantly" verbally abused her about her physical appearance. She claimed that much of that abuse led to a serious eating disorder. According to The Hollywood Reporter, she also said he "took credit for songs he didn't write, for a television show he didn't actually produce." The court ruling has caused a massive outcry from fans, activists, fellow-musicians, and advocacy groups, many adopting #FreeKesha as their rallying cry. It's unclear what else Kesha can do to leave the label, and it looks as if she wouldn't be able to make music for the next decade if she really refuses to do so with Sony.