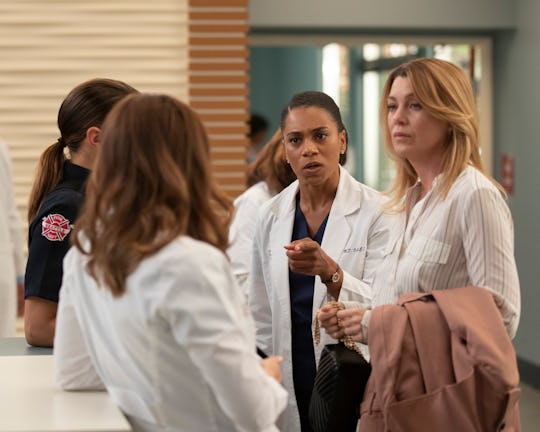 ABC/Rick Rowell
Clear Your Calendar For The 'Grey's Anatomy' & 'Station 19' Crossover Event
Your Thursdays are about to get a whole lot cooler. With the staff at Sloan Memorial intermingling with Seattle's bravest in the crossover event of the century, firefighters and doctors will fight together, save lives together, and probably — hopefully — get busy together. Thanks to Shondaland, you get a whole lot of drama in all the best ways each and every Thursday (RIP, Scandal). But how long is the Grey's Anatomy and Station 19 crossover? Long enough for you to cancel all your plans so you don't miss something so epic.
If you have anything scheduled Thursday night, carve out roughly two hours to watch the crossover. The fun begins at 8 p.m. ET on ABC as a precursor to another Shonda hit, How to Get Away with Murder. If you haven't started in on Station 19, crossovers are the perfect way to ease in without feeling like you can't keep up. Actually, viewers first spotted bad*ss firefighter, Andy Herrera (played by Jaina Lee Ortiz), back in March 2018 when she appeared at Sloan Memorial with accident victims before the whole Station 19 spin-off situation. The connection? She had former Sloan surgeon, Ben Warren (Jason Winston George) as her rookie firefighter. Andy and Meredith (Ellen Pompeo) shared a moment when Andy's dad (and fire chief) was hospitalized and good ol' Dr. Grey pulled the distraught daughter away so she could cry without everyone watching. It was dramatic and wonderful and everything Grey's is made of. As Station 19 really gets going, it's clear that it mirrors some of the same.
Fast forward to this season of both shows. ABC's synopsis of the Grey's/Station 19 crossover, titled "Momma Knows Best" is vague at best, saying, "Meredith turns heads when she shows up to work done up and ready for her blind date later that day, while Alex makes a questionable decision in order to save a patient. Meanwhile, the burden of knowing Teddy's secret keeps Maggie up at night, ultimately making her decide she has to tell someone."
For those who don't follow, TV Guide elaborated, explaining Dean (Okieriete Onaodowan who also gives TED talks to reach youth; um, hello?!) stops by the hospital to "check on a patient" which is obviously code for "ask Maggie (Kelly McCreary) out." She, well, she laughs — which isn't the response Dean expects but Maggie has her reasons (you'll see). Anyway, Maggie's still in a weird in-between land with Jackson (Jesse Williams) and this is all a set up for good TV. By the mid-to-end of Grey's, you should be all set up for Station 19's episode "Under the Surface" where the crew works against the clock to save a young boy from water pipes beneath the city. All of this aside, there will surely be time for romance and intrigue. Because Shondaland.
While the first season of Station 19 had a mere 10 episodes, ratings proved it could hang with the likes of Grey's. Though earlier this year, ABC Entertainment president Channing Dungey said it makes sense for the two shows to crossover on a regular basis, with more "interplay." When ratings are good with both the newcomer and the seasoned favorite, why not?
If you've yet to watch Station 19 and aren't sure whether it's in the same emotional context, Stacy McKee told Deadline how the crossover would work. "It was really important that this show worked as a companion piece with Grey's but also had a very distinct voice," she said. "It's about being a nice sister to Grey's but a sister with a little bit of edge."
So whether you're tuning in for Grey's or its "edgier" sister, it's good to know your Thursday evening plans are always taken care of.