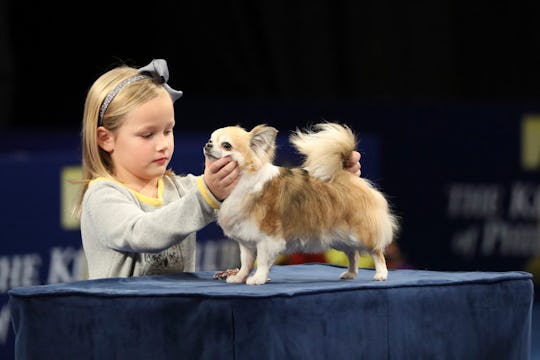 Bill McCay/NBC
The National Dog Show Is The Perfect Thanksgiving Day Distraction
When you're searching for something to watch on Thanksgiving, there are plenty of options. Football fans have three games to get them through the day. Traditionalists can enjoy the Macy's Thanksgiving Day Parade. But you can also check out the National Dog Show, if seeing some purebred pooches compete for best in show sounds like a fun way to pass the time. But how long is the National Dog Show 2018? To fit it into your schedule, you'll have to know exactly when it's on and its total runtime.
The 17th Annual National Dog Show airs on NBC at 12 PM and concludes at 2 PM, sandwiched between two showings of the Macy's Thanksgiving Day parade. That's two hours of over two thousand purebred dogs running around the Kennel Club of Philadelphia, waiting to be declared the best. (Spoiler alert: all dogs are the best, so everyone wins.) Pretty sure as long as every dog ends the day with a treat, they will be entirely satisfied with how the competition went.
The National Dog Show will be hosted by author and actor John O'Hurley and American Kennel Club-licensed judge David Frei. But lest you think dog shows aren't super serious, Olympics host and NBC Sports correspondent Mary Carillo will also be reporting on the event, with added commentary by former U.S. Olympic figure skaters Tara Lipinski and Johnny Weir.
There will be some changes at the National Dog Show this year. Over the last decade, more and more breeds have been able to compete, and now two more will be added to the show. Both are sanctioned by the American Kennel Club, making it all the more official. The Nederlandse Kooikerhondje can now compete in the sporting group (a quick Google search reveals this pup has stunning natural ginger-to-black ombré ears), and the Grand Basset Griffon Vendéen (which looks like the kind of dog who would accompany a kid on a coming-of-age journey in a '90s movie; trust me on that) can join the hound group. There will be 192 different breeds competing in total.
Last time the National Dog Show aired, a three-year-old Brussels Griffon named Newton took home the grand prize. He won for the toy group, which is one of seven categories the dogs are organized into (the remaining four are terrier, working, non-sporting, and herding). I am happy to report that Newton looks like an angry ewok and deserved to win for that reason if nothing else. But according to Yahoo! Sports, Newton came into the competition already a champion, having earned 22 Best in Show wins before. It seems having quite the pedigree can only work to one's advantage in this contest.
Though there's quite a lot of competition on TV on Thanksgiving, Philadelphia Magazine reported that the pooches still bring in millions of viewers every year. The National Dog Show first aired in 2002 and has grown into a holiday tradition in its own right in the years since. And it will give families the perfect way to spend a couple of hours this Thursday.