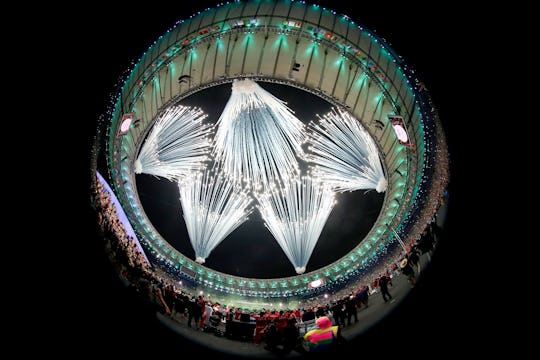 ODD ANDERSEN/AFP/Getty Images
How Long Is The Olympics Closing Ceremony? It'll Be Another Late Night
Olympics fans should plan on an extra coffee Monday morning. Sunday, Aug. 21 marks the closing ceremony of the Rio Olympics, which will begin at 7 p.m. local time in Brazil. Luckily for NBC, that translates to 8 p.m. Eastern Time, which means the network won't have to delay broadcasting the ceremony in order for it to coincide with primetime, a practice that's been garnering the network heaps of criticism. Like the opening ceremony, the spectacle is expected to run four hours, so fans are in for a late night.
Most of the details of the ceremony are pretty hush-hush right now, but one person who definitely won't be in attendance, according to USA Today, is Brazil's interim president, Michel Temer, whose appearance at the opening ceremony was met with boos. Japanese Prime Minister Shinzo Abe, whose country is hosting the 2020 games, will be in attendance, but so far there's no word on how he feels about being snubbed by Temer. Another likely attendee is national hero and soccer legend Pelé, who was unable to attend the opening ceremony due to health issues. Last week, the athlete tweeted to his fans that he was on the mend and planning on making up for his prior absence.
The United States will be represented by two more sports icons; on Friday, the White House announced that track and field star and four-time Olympian Jackie Joyner-Kersee would be part of the U.S. Presidential Delegation to the closing ceremony. Joining Joyner-Kersee is retired NBA player Jason Collins, who was the first out gay athlete in major league sports, and is now a member of the President's Council on Fitness, Sports, and Nutrition.
Like the opening ceremony, the closing ceremony will also be held in Rio's Maracanã Stadium. Norwegian DJ Kygo, who headlined Lollapalooza 2015, is scheduled to perform. Billboard lauds his "coconut-scented sounds," which I assumed meant that someone at the magazine is suffering from synesthesia, but apparently that's a reference to the fact that, although he hails from the land of reindeer, he's pioneered a genre of music called "tropical house." How very international. Sounds perfect for the Olympics! But is he worth staying up until midnight? Well, he's no Spice Girls (unfortunately, even the Spice Girls aren't the Spice Girls anymore), but the opening ceremony sure didn't disappoint. And at least it'll be live.