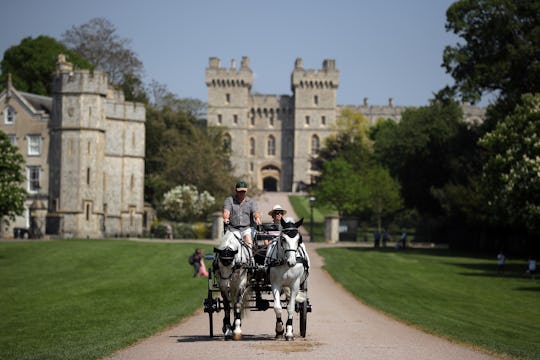 Dan Kitwood/Getty Images Entertainment/Getty Images
How Long Is The Royal Wedding? The Entire Affair Takes A Full Day
This Royal Wedding might possibly be the biggest event of the year. Since Prince Harry and Meghan Markle announced their engagement last year, people have been waiting for months to watch their nuptials. And now, that day has finally come. Prince Harry and Markle married today, in front of an exclusive group of friends and family members (and a televised audience, to boot). But if you thought the attendees looked a little tired sitting in the pews at the ceremony, then you might be wondering — how long is the Royal Wedding?
Prince Harry and Meghan Markle's nuptials are the only thing that people have been able to talk about for months, and you really can't blame them. This is the last royal wedding in the direct royal lineage for a long time until one of Prince William's children gets married in a very long time from now. And now that Prince Harry and Markle's royal wedding is finally here and people have finally gotten their opportunity to watch the wedding come together, it's even more exciting than they could imagine.
But whether you're tuning in to a rebroadcast of the wedding (held very early in the morning for those in the United States) or watching it live, the curiosity about the length of the wedding definitely stands. Markle and Prince Harry's entire wedding ceremony held at St. George's Chapel, was expected to take an hour, according to USA Today, but the ceremony is only the beginning of the wedding.
At 9:30 a.m. in England, the 600 guests began arriving at the wedding, according to USA Today, but the wedding ceremony didn't actually start until 12 p.m. Yeah, that's a lot of wait time just to have the wedding officially start. By 1 p.m. the wedding ceremony should have been over, according to USA Today — but this is royal tradition. When Prince William married Kate Middleton in 2011, according to ABC News, it took the couple approximately one hour and 15 minutes to exchange their vows before leaving Westminster Abbey. There is also a lot more to come after Prince Harry and Markle exchanged their vows.
It's a much longer day for Markle and Prince Harry than their guests, who get to bear witness to such a historic celebration. After the wedding ceremony, both Prince Harry and Markle got to greet "200 representatives of Prince Harry's charities outside the chapel" (which likely takes awhile), according to CNN, followed by a 25 minute long horse drawn procession, which ended at Windsor Castle. By then, as most people know, the cameras get turned off, leaving Markle and Prince Harry to celebrate with their wedding guests, but their celebration didn't end there.
The first, larger wedding reception, thrown for the couple by Queen Elizabeth, will be held at St. George's hall on the castle grounds, according to CNN. But later in the evening, the real party begins. Tonight, Markle and Prince Harry's guest list will shrink from 600 to 200, according to CNN, and they will celebrate with those selective guests at a smaller reception, held by Prince Harry's father, Prince Charles. It is there where they will likely party and celebrate the end to one very long day.
It's likely that Markle and Prince Harry will be able to get plenty of rest after their exhausting day of events. Markle and Prince Harry are postponing their honeymoon, according to People, due to the fact that they have their first royal appearance as a married couple a week after the wedding. This means they'll be able to spend all day together, enjoying each other's company (away from the buzz of the royal wedding) rather than getting ready to jet off to an exotic honeymoon location.
The length of Prince Harry and Markle's royal wedding puts your longest days to shame. Can you imagine having to stay awake and that active for so long?