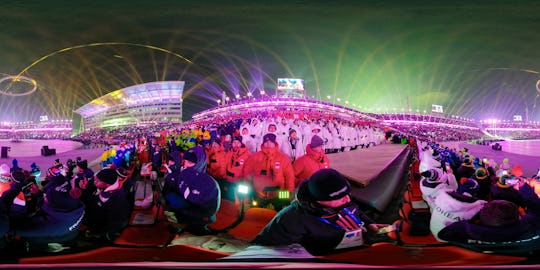 Clive Mason/Getty Images Sport/Getty Images
Here's How Long The 2018 Winter Olympics Closing Ceremony Will Last
The 2018 PyeongChang Winter Olympics are just about over and as the fun and excitement winds down, there's still plenty of pomp to take place at the Winter Olympics closing ceremony on Sunday, Feb. 25. Pop some popcorn and get settled on the sofa, because the event is expected to be chock full of festivities and will keep you occupied you for a couple hours.
This year's Winter Games are happening all the way over in PyeongChang, South Korea, so there's a substantial time difference to take note of when tuning in on Sunday. According to TIME, the closing ceremony will officially begin on Sunday, Feb. 25, and in the United States, it will start at 6 a.m. ET, which you can watch via live stream. Now, I'm going to go ahead and assume that not too many people will want to get up that early to watch it live at the crack of dawn on a Sunday morning. But if you do, you certainly watch it unfold in real time on NBC, NBCOlympics.com, or via the network's app.
However, for those who like to get their beauty sleep on Sundays, you can tune into the closing the ceremony when it broadcasts again at 8 p.m. until 10:30 p.m. ET, according to NBC, lasting for approximately two and a half hours.
It's always a bit sad to watch the Olympics come to an end, as they're such an incredible time of patriotism, athleticism, and pretty figure skating costumes. For many, the Olympics are such an important time in history, whether or not you typically care about sports. And this year has certainly been memorable. Don't believe me? Well, let's take a look at the Winter Games' opening ceremony, for example. While the event is usually a time for a nation and its teams to come together and support each other, that wasn't the case this year, at least for the United States. Per the New York Daily News:
The Vice President has become the biggest story at the Olympics so far since he decided to protest during the opening ceremony, when he remained seated during the Unified Korean team's introduction.
Indeed, the Winter Games got off to a rocky start. Now, I'm not going to say that that means they'll end on a troubling note, but there hasn't exactly been a whole lot of that come-togetherness that the games are known for. In fact, there's been a lot of controversy surrounding this year's Winter Olympics, and it started before the games even did. One Fox News contributor wrote, "the motto of the Olympics, since 1894, has been 'Faster, Higher, Stronger.' It appears the U.S. Olympic Committee would like to change that to 'Darker, Gayer, Different.' If your goal is to win medals, that won't work," per The New York Daily News.
Of course, there's also been plenty to celebrate and lots of unforgettable moments. Remember Shaun White's redemptive victory on the halfpipe? Pure gold. Or how about when Red Gerard, a teenage Olympian cursed on live television and then went on to win the United States' first gold medal of the games? Iconic.
A lot has happened in these past two weeks and with a two-and-a-half-hour closing ceremony to come this Sunday, there will be plenty to wrap up a historic Winter Games the right way. For example, there will be several musical performances, full of "K-Pop songs and catchy EDM music" performed by K-Pop groups EXO and CL.
Aside from what are expected to be spectacular performances, those us stateside could really us some extra reaction footage from Adam Rippon. That would be seriously appreciated, NBC.
Check out Romper's new video series, Romper's Doula Diaries:
Watch full episodes of Romper's Doula Diaries on Facebook Watch.