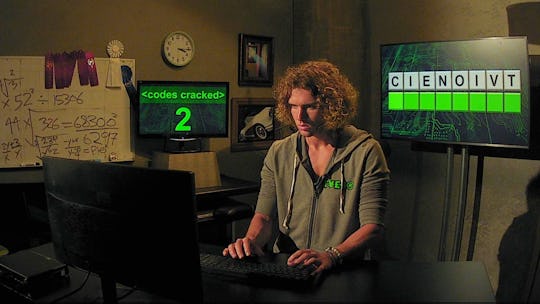 Best Possible Screen Grabs/CBS
Tyler's Chance To Use His Power App On 'Big Brother' Is Running Out
Since the BB App Store has closed, one power app has been used and one power app has been tossed out of the game along with the houseguest who won it. Now the only power app left is the one Tyler won, but how long is Tyler's power app active on Big Brother?
There is a little debate about whether or not Tyler's app is for the first eight weeks of the game or if the eight weeks began when he got the app in the second week of gameplay. However, most sources agree the app is for the first eight weeks of the game and since this is week seven, Tyler can only use the app next week or it won't be used at all. At this point it seems unlikely Tyler will need to use it.
The only person that has been daring enough to nominate Tyler was Haleigh when she was the Hacker last week. As head-of-household this week, this was her chance to nominate Tyler again, but Tyler was able to convince her to try to backdoor him instead, giving him fair warning about having to use the cloud app ahead of the veto ceremony if he doesn't win the power of veto himself. But it is unlikely it will even come to that.
Tyler's ally, Kaycee, won the Hacker Comp this week, taking herself off the block and replacing herself with Rockstar as the nominee next to Angela. As the Hacker, Kaycee will also get to choose someone to play in the veto competition and since she and Tyler are allies it seems very likely Kaycee will pick him to play, especially since he has proven he is a good competitor.
If Tyler wins the POV, that prevents Haleigh from nominating him, thwarting her backdoor plan. And if Tyler does not win he will just use his cloud app to keep him safe, still ruining Haleigh's plan. So no matter how the veto competition plays out, Haleigh's hopes of getting Tyler out this week are not going to work out they way she wants to them to.
Additionally, if Tyler ends up winning POV it is unlikely he will need to use his cloud app next week. Haleigh is the only person in the house who has thought to target him and since she is the current reigning HOH she will not be able to be HOH again next week. Tyler has pretty solid relationships with every one else in the house so unless someone suddenly decides to make a big move, Tyler will be sitting pretty probably all the way to Final Two.
As for who will actually end up going home this week, unfortunately the odds are not in Rockstar's favor. The only way she can be saved is if she or one of her allies wins the POV and takes her off the block, but Rockstar is not great at comps and besides her HOH Haleigh has not won anything yet. Their best shot would be if Faysal's name gets picked to play, but that is still just one person up against Angela and presumably Tyler, both of whom are good physical competitors.
If Rockstar ends up on the block come eviction night it is hard to see her sitting next to anyone that the house would want to send out more than her. Additionally, Rockstar would need to get JC, Scottie, and Sam's votes to even have a chance at staying in the game, especially since Kaycee can cancel someone's vote and she will probably cancel Faysal's. Plus, Haleigh is HOH, which means she can only vote in the case of a tie. In other words, Rockstar better hope someone on her side wins POV otherwise this could be her last week in the Big Brother house.