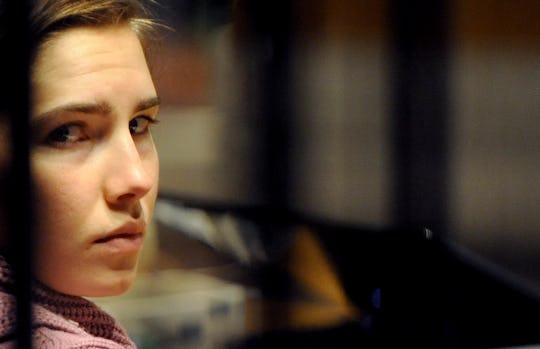 TIZIANA FABI/AFP/Getty Images
How Long Was Amanda Knox In Jail? She Was Away From Home For Years
In 2007, while studying abroad in Perugia, Italy, Amanda Knox was charged and convicted of the murder of her housemate, Meredith Kercher. Then Knox was acquitted — although it was a while before she was released and finally allowed to go back home to America. So how long was Knox in jail? She was there for almost four years before she was acquitted in 2011 and allowed to return home. Even after returning home, there was then a retrial for Knox and her boyfriend, Raffaele Sollecito, who was also convicted and then acquitted in Kercher's murder. It wasn't until 2015 that the Supreme Court of Cassation definitively exonerated both Knox and Sollecito, stating they were innocent of any involvement in Kercher's murder.
The only person currently serving time for the murder of Kercher is Rudy Guede, who's bloodstained fingerprints were found on Kercher's possessions at the house. However, because Guede had a fast track trial in 2008, his sentence minimized from 30 to 16 years. He might even get out earlier for good behavior. That is certainly an outcome that is less than satisfactory to Kercher's family and friends, no doubt, after such a painful experience.
Although in the eyes of the law Knox is innocent, public scrutiny about the case continues to be varied, which is examined in the top of the documentary. Knox, addressing the viewers, gives the audience one of two options: either you think she did it, and got away with it, which is scary in itself; or you think she is innocent, and live with the fear that what happened to her could happen to anyone — even you. Although it is important to notice that no matter how complicated the trial — trials — was, at the end of it all, Amanda Knox has been acquitted of all charges that linked her to the murder of Kercher. In Netflix's new documentary, Amanda Knox, Knox will speak about her own experience and what it was like to be wrongfully convicted in a country so far from home. The documentary will take an in-depth look at the case and include others that were involved in the case, including Sollecito.
Knox told Good Morning America that the documentary will show the facts of the case from all sides, not just her own, and let viewers make their own decisions about the case.
"By showing who was a part of it, not just me, not just my co-defendant, but also the prosecutor and the media, they're shedding more light on what happened than all the speculations that's been put out there combined," Knox said.