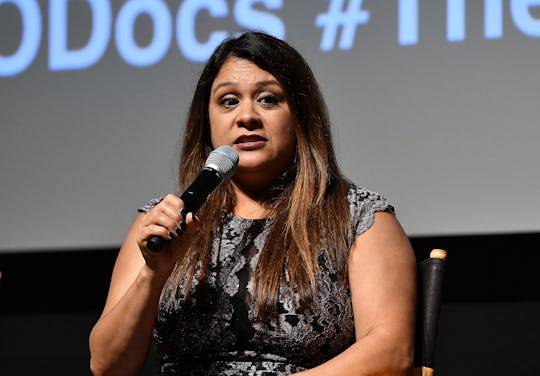 Slaven Vlasic/Getty Images Entertainment/Getty Images
Cindy Shank From The HBO Documentary 'The Sentence' Spent Years Behind Bars
Cindy Shank thought she was going to prison for 15 years. She believed her three daughters would spend all those years without their mom. And all because of a sentencing on drug conspiracy charges that many believe was too harsh. Her story is the subject of a new HBO documentary, The Sentence. But how long was Cindy Shank from The Sentence in prison? To her, any amount of time away from her kids was too long.
In May 2002, Cindy's boyfriend, Alex Humphry — a Lansing, Michigan drug dealer —was fatally shot. According to The Detroit Free Press, investigators never found his killer. But when law enforcement searched the home Humphry and Cindy shared, they found cocaine, marijuana, and guns. It was reported to be the biggest drug bust in the city's history at the time, and Cindy got caught up in it all.
Cindy told investigators that she wasn't involved in her boyfriend's drug operation, and she says he became abusive and threatened her to the point that she was afraid to leave, The Detroit Free Press reported. And although she initially faced state charges in connection with her boyfriend's drug activities, those charges were later dropped. But in 2007, that all changed, and Cindy's nightmare with the United States criminal justice system began.
Cindy was prosecuted in 2007 on drug conspiracy charges, and although no charges were filed against her immediately after Humphry's death, law enforcement revived the charges and arrested her one morning years later, according to The Washington Post.
Since they were drug charges, her trial resulted in a 15-year mandatory-minimum sentence in a federal prison. This was after Cindy had moved on with her life and had children with her husband, Adam Shank, Newsweek reported. Her youngest daughter was just six weeks old when she was sentenced, and all three of her daughters — Autumn, Annalis, and Ava — spent years without living a normal life with their mom.
The new documentary The Sentence captures the lives of Cindy's family while she spent time in prison, and shines a bright light on the issue of mandatory minimum sentencing. Her younger brother, Rudy Valdez, made the film after he originally set out to make home videos of his nieces growing up. And soon, the moving HBO documentary will show the world just what life was like for Cindy and her kids while she spent nearly nine years in prison for a first-time non-violent offense.
As he prepared to leave office in late 2016, President Barack Obama gave Cindy a clemency exception her husband and brother fought hard for, The Washington Post reported. She may not have spent the entire 15 years she was sentenced behind bars, but the years she did spend in prison meant she missed a lot of her girls' early years.
"I was sentenced to missing my daughters growing up," Cindy told The Los Angeles Times. But she also understands that the issue is much bigger than her. She told The Detroit Free Press:
I want people to know that people who are behind bars aren't horrible people. They're somebody's mother, daughter, sister, wife. They have people who love them. And there are good people there, too. ... I left behind a lot of deserving women who deserve to be home with their children just as much as I do.
Though Cindy spent a few years less than the 15 years she was sentenced behind bars, she will never get back those years with her kids. You can see what the journey was like for Cindy and her family by watching the HBO documentary The Sentence, airing at 8 p.m. on Oct. 15.