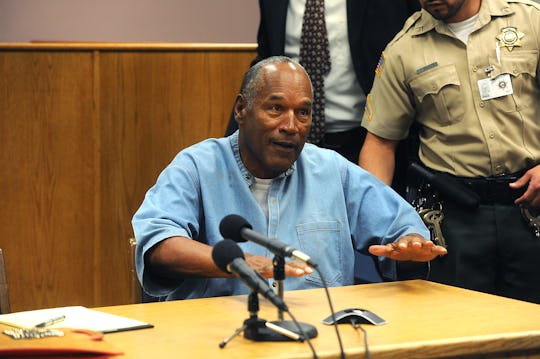 Pool/Getty Images News/Getty Images
OJ Simpson Is Freed On Parole After Spending Nearly A Decade In Prison
O.J. Simpson is a free man. Early in the morning, on Oct. 1, the former football star was released from a Nevada prison. Surely you're wondering — how long was Simpson in prison? Needless to say, there is a lot for him to catch up on.
Nine years. Simpson has been in prison for the past nine years — and the crime he committed to land him there happened a decade ago. In September 2007, Simpson was reportedly involved in an incident in a Las Vegas, Nevada hotel involving sports memorabilia. And one year later in 2008, Simpson was convicted of 12 charges, according to The New York Times, including kidnapping and armed robbery charges.
But nine years later, over this past summer, Simpson was granted parole. Simpson said during his parole hearing, according to Rolling Stone:
I've spent nine years making no excuses about anything. I am sorry that things turned out the way they did. I had no intent to commit a crime...I've done my time, I'd just like to get back to my friends and family — and believe it or not, I do have friends!
In a video taken from Simpson's release, shared to Twitter, Simpson looks relieved to get out of prison and enter the world for the first time in almost 10 years, walking quickly out the door.
But a lot that has happened since the crime was committed and Simpson was sent to prison a year later. Heck, so much has happened just in the past year. Since Simpson went into prison there have been so many advancements in the United States, let alone the world. Since 2008, there have been 13 different versions of the iPhone that have been released. There have been three presidential election cycles. American Idol was still on TV and people actually enjoyed watching it. President Donald Trump was a name synonymous with a reality TV show and not "President of the United States." If you thought learning how to use iOS 11 was hard on your phone, imagine having to learn all about new technology for the first time in nine years.
Simpson's re-entry back into "the real world" — one where he has free reign of his schedule, of what he eats, and what he does for a living — more than likely won't be easy. This will especially be difficult for him since he is a huge public figure. As such, Simpson will more than likely lay low for the time being until he gets his bearings.
During his parole hearing, Simpson told the parole board that he would like to move to Florida to be with his family, where he was living before the conviction. According to CBS News, he will likely be spending his time with his children. Simpson's friend, Tom Scotto, told CNN about his friend's future plans after his release:
He's not going to hide. He's going to focus on kids, friends, his family, and golf. Maybe not the first day or the second but he is going to go out.
But according to Rolling Stone, as of Friday, Florida corrections officials had not "received a parole transfer request" for Simpson — which means that Simpson will be staying in Nevada and not permanently moving to Florida immediately.
While people might find it strange to see Simpson shopping for milk and eggs in the neighborhood grocery store or playing some golf at their local country club, Simpson assured the parole board during his hearing that he did not foresee "any problems dealing with the public at all" once he was released from jail, according to Rolling Stone.
Yup, a lot has changed over the last nine years. And Simpson being released from prison is just one of those changes.
Watch Romper's new video series, Romper's Doula Diaries:
Check out the entire Romper's Doula Diaries series and other videos on Facebook and the Bustle app across Apple TV, Roku, and Amazon Fire TV.