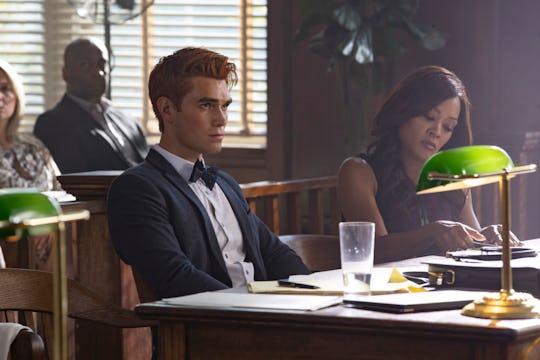 Jack Rowand/The CW
Fans Don't Want To See Archie Imprisoned Forever On 'Riverdale'
After leaving Archie in handcuffs in the Season 2 finale of Riverdale, fans have been anxious to find out what happens to their favorite high school hunk. In the Season 3 premiere, Archie finds himself in police custody, framed for a murder he didn't commit. But how long will Archie be in juvenile detention? Because fans can't deal with all the injustice he's enduring.
Much to the dismay of Archie's family and friends (and his fans), Archie pled guilty to murdering Shadow Lake resident, Cassidy Banks, and accepted a sentence of two years in juvenile detention. But from Season 2, fans know that Archie didn't commit the murder and that he was framed by Hiram Lodge, so imagining him spending two years in jail is unsettling. But there are always surprises lurking around the corner in Riverdale, so he'll probably be released sooner rather than later.
The premiere episode, "Labor Day," finds Archie at the center of his trial, with his lawyer mom Mary Andrews representing him against prosecuting attorney Ms. Wright. At the end of the trial, the jury is deadlocked, and Ms. Wright offers Archie a plea deal with a lesser sentence — time served plus two years in juvie. But before his mother could squeeze in a word, Archie, the martyr, accepts the offer. "I can't put everyone through this again," he says before being bussed off to the Leopold and Loeb Detention Center.
It's safe to say fans weren't impressed with his internal logic:
But that isn't the end of Archie's case. At the end of the episode, Mary, Fred, FP and Tom all vow to prove that Hiram framed him for Cassidy's murder. Mary tells Fred that she has already written Archie's appeal and is going to file it as soon as she can. "I'm going to prove that Hiram Lodge framed our son, and I'm going to make that son of a bitch pay," Fred tells her, with FP and Tom adding that they'll do whatever it takes.
Veronica may also play a huge part in proving Archie's innocence, and after her dad confesses that he framed Archie because of her disloyalty, she may just have the ammunition to do it. "You think I did all this to hurt Archie, because he threatened me?" Hiram asks Veronica. "No, it's because you betrayed me. This is your punishment. You chose that boy over blood." Veronica leaves her father, telling him she is no longer his daughter, which may indicate she's burning that bridge once and for all.
But it may take time for Archie's friends and family to prove his innocence, and in the meantime he'll have to try and get through his stint in jail. In an interview with Newsweek, KJ Apa revealed that Archie will go through a rough journey in detention, and would meet some new people along the way. "He meets a few people in there that he needs to get close to in order to protect himself," Apa told the outlet. "Some are serpents, some are not serpents. Some are not even affiliated with anyone. He meets some cool characters in prison, for sure."
With that said, you'll probably see Archie in jail for at least a few more episodes. It will take time for Archie's allies to gather the evidence they need to exonerate him, and the fact that the Sheriff and other countless corrupt officials are working with Hiram will probably make it difficult. Fans are hoping Archie is released sooner than later, so that they can see him back in his varsity jacket with Veronica, Jughead, and Betty by his side.