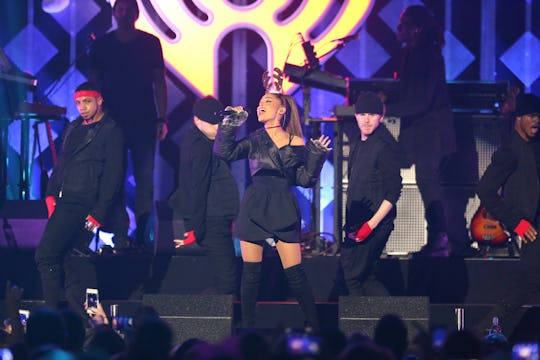 Catrina Maxwell/Getty Images Entertainment/Getty Images
How Long Will Ariana Grande's Tour Be Suspended?
On Monday night, a terrorist attack in Manchester, England killed at least 22 people and injured more than 50, many of whom were children and young adults, according to the BBC. The attack occurred at a music venue where pop star Ariana Grande had just performed a sold-out concert. In the wake of the tragedy, TMZ reported that sources close to the singer said her tour would not be continuing. How long will Ariana Grande's tour be suspended? Reports say indefinitely, and Grande tweeted that she was "broken" after the harrowing attack.
Just after 10:30 p.m. U.K. local time on Monday, a bomb exploded in a packed music venue where Grande had just performed. Chaos erupted, and not only were many young people killed or wounded by the blast, but an unknown number were separated from family and friends and remain missing, according to the BBC. Shortly after the attack — which British Prime Minister Theresa May and law enforcement have confirmed is being investigated as a terrorist attack — Grande's manager Scooter Braun posted a statement to Twitter. A few minutes later, Grande herself tweeted that she was "broken", "so sorry" and "had no words" for what had happened.
Sources close to the singer reportedly told TMZ that she is "inconsolable" after the attack and has suspended the remainder of her tour — which was set to include a performance in London later this week and several other major European cities over the next month. The source also told TMZ that in addition to being in shock, the crew clearly has safety concerns that preclude any additional performances, at least in the immediate future. Alternatively, Variety reported that sources say Grande's team is "still assessing" the future of the tour and no decision to postpone has been made.
While some have reportedly called out the singer on social media for not giving a more definitive response (and straight up attacking her or even blaming her for the horrific event) it's inappropriate to expect her, or any member of her team, to offer anyone anything in the immediate aftermath of such an unthinkable tragedy. Grande's fanbase is predominantly young people, and many of the victims of the attack were reportedly under the age of 16, according to The Telegraph. That being said, many also tweeted supportive messages to the singer and her crew, many of which came from her friends in the entertainment industry, like Pink and Miley Cyrus.
The tour dates are still listed on Grande's official website, which included performances throughout Europe through the end of June. For fans who are wondering, it's most likely that when she and her team are ready to make a statement about future performances and the rest of the world tour, she'll do so through her official website or social media. For those who already have tickets, usually when a major tour is canceled unexpectedly for any reason (but certainly in the wake of a national tragedy) refunds are issued or tickets become applicable to future tour dates, according to The Washington Post. Canceling even a single performance is an enormous loss for the venues, the performers, and everyone involved, so usually performances are postponed rather than canceled entirely. That being said, the health and safety of everyone involved — from the artists and crew to the workers at the venue and, of course, the fans — has to come first.