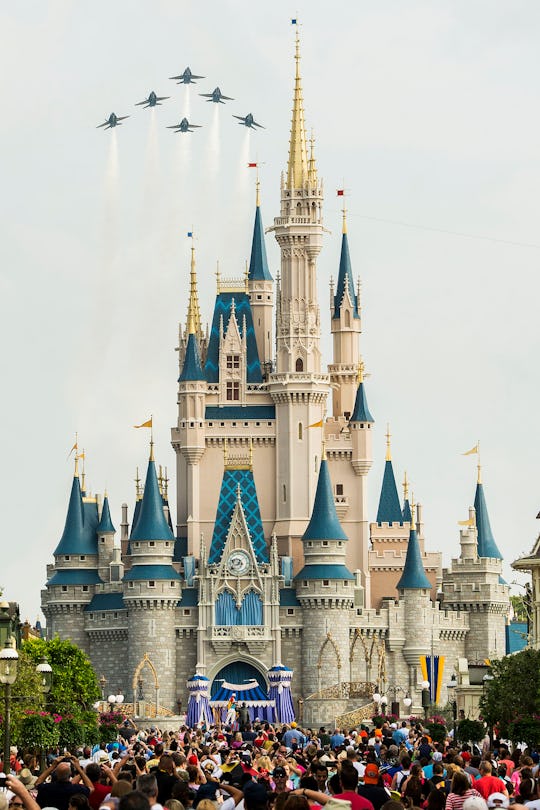 Handout/Getty Images Entertainment/Getty Images
Disney Will Be Closed For Hurricane Irma
Because of Hurricane Irma, the Happiest Place on Earth could very well become the quietest place on earth within the next few days. In anticipation of the category five hurricane hitting Florida, the Orlando, Florida theme park — Disney World — is closing. But for how long will Disney be closed?
Hurricane Irma is no joke. The storm is currently barreling towards the state of Florida striking it as early as Sunday morning. Florida Gov. Rick Scott has encouraged everyone, especially those in evacuation zones, to seek shelter immediately or get out of the state until the storm passes. People are leaving Florida fast and they understandably don't want to take their chances with riding out the storm. This is why Disney announced on Friday that the theme parks would be closing in anticipation for the storm to hit.
Luckily, if you're super devastated that the theme park is closing, it won't be closed for long. Disney World will be closed on Sunday Sept. 10 and Monday Sept. 11 for the hurricane. The theme park's hotels will remain open for guests who were unable to get out of Florida, but will understandably have some adjusted services and amenities. Everyone can exhale now because Disney hopes that it will resume normal hours on Tuesday Sept. 13.
But Disney World re-opening all depends on the impact of the storm. If the storm causes Orlando to lose power or causes damage to the park, one could expect that would delay its re-opening.
It is incredibly rare that Disney World even gets to the point of closing. Since the theme park opened in 1971, Disney World has only closed four other times, according to Time. Every single time that Disney World has shut its doors has been due to a hurricane, according to CNBC, but even during those times the park was closed for one day only. Hurricane Irma is forcing Disney World to shut its doors two days in a row for the first time ever. Yeah, the hurricane is that serious. And when it closes, it has some serious repercussions — according to Time, Disney World makes about $30 million in revenue a day and employs 70,000 people. When the park closes to a hurricane, the park and its employees are out of money.
Luckily the park is closed for a good reason — to protect the safety of the employees and the thousands of people who enter the park, daily. Stay safe out there. Disney World will be re-opened before you know it.