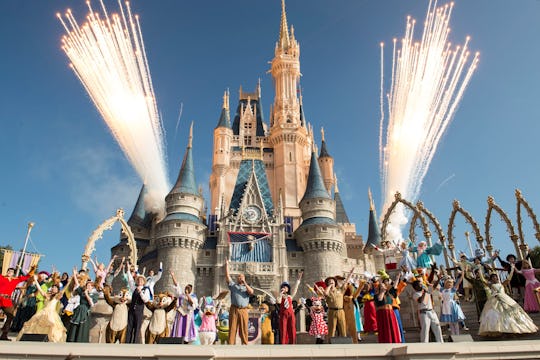 Handout/Getty Images Entertainment/Getty Images
How Long Will Disney World Be Closed From Hurricane Matthew? It Should Open This Weekend
It's official: Hurricane Matthew has shuttered the Magic Kingdom. As the hurricane makes its way toward Florida, Disney World has announced it will close it's gates at 5 p.m. on Thursday. So how long will Disney World be closed from Hurricane Matthew? The company is going to try and have the park up and running for the weekend, and hopes re-open Saturday morning.
The park closures include all Disney theme and water parks, in addition to Disney Springs, and the ESPN Wide World of Sports and mini golf courses, according to the Orlando Sentinel.
In addition to closing the Disney World theme park, the Fort Wilderness campground has been evacuated and other accommodations are being made for tourists staying in the Polynesian Village bungalows and Saratoga Springs treehouse villas, the Orlando Sentinel reported. Mickey's Not-So-Scary Halloween party has also been scrapped.
Disney World isn't the only high-profile closure as a result of the storm, other area attractions that have closed for the rest of the week include Sea World and Universal Orlando, and all are hoping to open back up once the storm passes on Saturday, the Sentinel said.
Florida Gov. Rick Scott urged anyone still in evacuations zones across the state to get out immediately, warning in a press conference on Thursday, "This is serious. ... If you need to evacuate and you haven't, evacuate," according to CNN. "This storm will kill you. Time is running out. We don't have that much time left."
Projections are forecasting that Hurricane Matthew could hit Florida as a Category 4 storm with winds as high as 165 miles per hour, according to CNN. The storm is expected to make landfall late Thursday night or early Friday morning.
The BBC reported that Matthew could be the worst storm to hit Florida since 2004 when Hurricane Charley caused more than $14 billion in damage.
But property damage isn't the biggest concern for officials as Matthew approaches. They're most concerned with people getting to safety. Matthew has already killed more than 100 people in Haiti, the BBC reported.
Scott tried to emphasize the risk as much as possible, according to the BBC:
There are no excuses, you need to leave. If you're reluctant to evacuate, just think of all the people this storm has already killed. You and your family could be among these numbers if you don't take this seriously.
Glad Disney and other major Florida attractions are taking the threat seriously, too. It might just save a few lives.
Disney has announced that it will waive any cancellation fees for travel guests who booked travel dates that include Oct. 5 to 13, according to a message on the Disney World website.