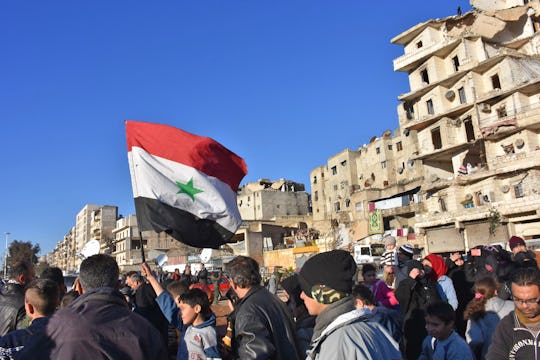 GEORGE OURFALIAN/AFP/Getty Images
How Long Will It Take To Evacuate Civilians Still Stranded In Aleppo?
Syria's near six year civil war has experienced a major development: Almost all rebel-held parts of Aleppo have now been reclaimed by Syrian forces, and a full evacuation of both citizens and rebels alike is currently underway. Given the war-torn state of the city, many are wondering: How long will it take to evacuate civilians still stranded in Aleppo? "The evacuation could take days," Marianne Gasser, head of the International Committee of the Red Cross in Syria, informed the public this week.
The evacuation deal, negotiated by Turkey and Russia, was overseen by the Red Cross. The deal permits the "evacuation of civilians and wounded, as well as rebel fighters bearing small arms, from besieged areas of the city." Evacuation was supposed to begin on Wednesday, but ceasefire promises were reportedly not kept by pro-government forces, which necessitated a pause in evacuation efforts. Locals reported multiple, similar circumstances of this nature — circumstances that are likely to blame for the unwillingness of evacuees to exit. "Even the civil defense got wounded," said Maan al-Shanan, an antigovernment activist in the east of the city, to The New York Times. "Who would dare to leave?" he asked.
The scene of an Aleppo evacuation is a heartbreaking one. "Everyone is now standing in front of their homes, crying over their homes, taking photos, saying farewell to their homes and their land," Aleppo resident and local rebel faction member Mohammad al-Sheikh told The Wall Street Journal. "In the end," he shared, "they left against their will."
Thousands of Syrians have now been evacuated in 13 ambulances and 20 buses, with the International Committee of the Red Cross reporting that over 3,000 civilians have been removed thus far. Evacuees in Aleppo are being transferred to the Idlib province, BBC reports. Idlib, however, is by no means a safe haven. In fact, the province is currently controlled by rebels and is also, by CNN's estimations, "most likely the regime's next target for recapture."
Certainly, the outcome for Syrians remains uncertain. Aleppo's evacuation brings more instability to Syrians whose lives have been completely ravaged by the past six years' tumult. Despite this fact, pro-government forces are relishing in their victory. Syrian President Bashar Assad said that, given the recent defeat of rebels in Aleppo, "history is being made," and the change "greater than the word 'congratulations.'"
Whereas it's easy to feel distant from such a momentous struggle, putting efforts toward helping Aleppo, either by donation or action, can assist displaced Syrians in necessary ways. Given Syria's current state, global gestures, even small ones, are absolutely necessary.