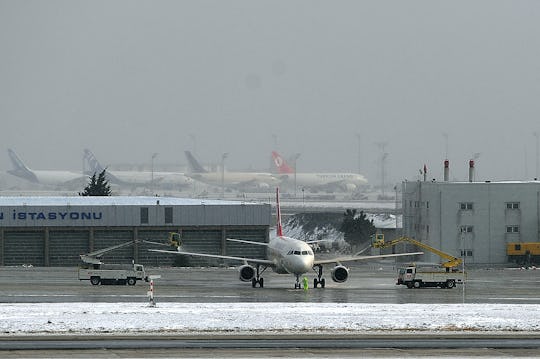 OZAN KOSE/AFP/Getty Images
How Long Will The Istanbul Airport Be Closed? Two Bombs Injured Dozens
At least 10 people were killed and 60 others were injured when two suicide bombers detonated their bombs at Istanbul's Ataturk Airport on Tuesday, according to CNN. Jay Borselle from CBS Radio in Boston reported that the airport was closed as authorities investigated reports of two possible gunman. How long will the Istanbul airport be closed? It's was still unclear Tuesday afternoon just how big the attack or the threat was.
Update: The Associated Press reported that 28 people were killed in the attacks and another 60 were wounded. The New York Times later reported that the attacks were carried out by three suicide bombers.
Previously: CNN reported that the first bomber was located outside of the terminal and the second was at the security gate at the entrance to the airport near the international departures area. Both of the bombers were killed after detonating their bombs, but one of them opened fire with a Kalashnikov before detonating his bomb, Turkey's Justice Minister Bekir Bozdag told CNN.
It's unclear if there are other suspects, though local news media in Turkey reported that gunfire was heard in addition to the one fired by one of the suicide bombers, according to ABC News. It's also unclear just who could be behind the attacks. ABC reported that Turkey has been under repeated threats and attacks from the PKK, a Kurdish separatist group, and terrorist group ISIS.
The attack is being compared to the coordinated bombings at the Brussels airport in March, which left 32 people dead. ISIS later claimed responsibility for the attack, according to CNN. The New York Times reported that some think the attack was perpetrated by ISIS in response to a deal to restore diplomatic relations between Turkey and Israel. But another expert told the Times that it could also be the result of conflict in Syria.
For now, flights that were leaving the Istanbul airport were stopped on the runway, and all flights into the airport have been canceled, according to the BBC. It's unclear when they will resume.