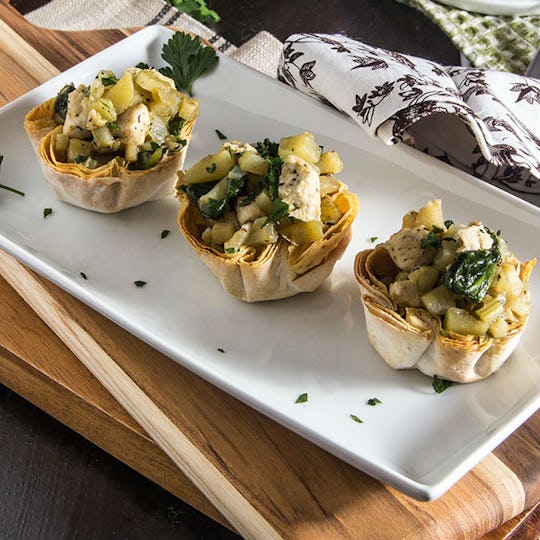 How Make Your Whole Thanksgiving Meal In Muffin Tins, So You Can Minimize Your Clean Up
For years, Thanksgiving tables have been set with traditional meats and sides, showcased atop fancy platters and serving dishes. But maybe this year you feel a little rebellious and want to add some unexpected fun to the Turkey Day celebration. If your inner rule-breaker is dying to come out, surprise your guests with an entire Thanksgiving dinner made in muffin tins.
These bite-sized recipes might be small in stature, but they are big on flavor and presentation. (You even get to use a kitchen torch for the sweet potato muffins. Score!) And since you are going rogue with these unconventional recipes, you're able to use your decorative skills to present them in a Pinterest-worthy way. Present them atop cupcake stands and cake platters, or arrange your Thanksgiving muffins into an edible pyramid.
Even if you're not ready to take the leap and make your entire dinner in muffin tins, you can still incorporate one or two of these ideas into your meal as a side or dessert. Because Thanksgiving fare can come with a little flare. So this yer, trade the large pots and pans for a more compact muffin tin to create some delicious Thanksgiving food that will have everyone asking for more.