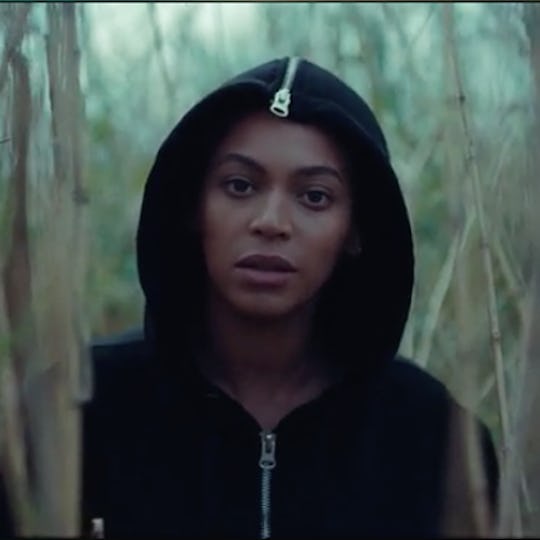 HBO
How Many 2016 VMA Nominations Did Beyonce's 'Lemonade' Get? She's Leading The Pack
It's that time of year again! The VMAs are almost here, which means the nominations have finally be released. This year is filled with some of music's best contenders and it's no surprise that Beyoncé is leading the pack this year after her visual album, Lemonade, made such a big splash. So how many 2016 VMA nominations did Beyonce's Lemonade get in total? This year Beyoncé garnered herself 11 nominations, the most she's ever received in a single year.
Beyoncé's received a Video of the Year nomination for "Formation," and is up against Adele's "Hello," Drake's "Hotline Bling," Justin Bieber's "Sorry," and Kanye West's "Famous," which has caused a lot of controversy. "Formation" was also nominated for Best Female Video alongside "Hello," Sia's "Cheap Thrills," Ariana Grande's "Into You," and Rihanna's "Work." With Kanye most likely attending the VMAs this year it'll be interesting to see what will happen if Beyoncé doesn't win for Best Female Video, as was the case that began the infamous Kanye/Taylor Swift feud in 2009.
The VMAs also added a new category to the program this year for Breakthrough Long Form Video. With artists making movies out of their music videos these days (something Michael Jackson was famous for doing) this seems like the perfect addition to the award ceremony. Beyoncé's Lemonade was nominated in the category as was Florence + the Machine's The Odyssey, Justin Bieber's PURPOSE: The Movement, Chris Brown's Royalty, and Troye Sivan's Blue Neighborhood Trilogy.
To round out Beyoncé's nominations "Formation" was also nominated for Best Pop Video, Best Choreography, Best Direction, Best Cinematography, and Best Editing. Beyoncé also received nominations for Best Collaboration with Kendrick Lamar for "Freedom," which they performed at the BET Awards this year, and Best Art Direction for "Hold Up."
Adele also received a lot of VMA nominations this year with a total of eight nominations, all of which were for her music video "Hello." This year's VMAs will surely be filled with excitement and maybe even some drama depending on who shows up. To see everything that happens live make sure to tune into the VMAs on MTV on Aug. 28.