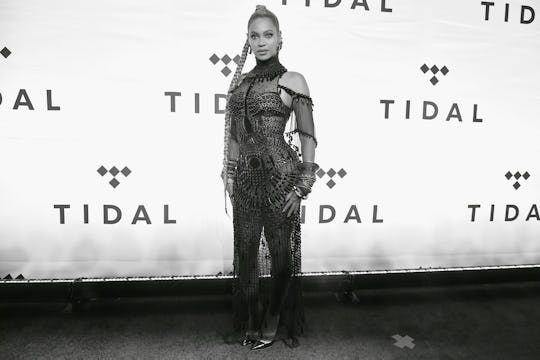 Theo Wargo/Getty Images Entertainment/Getty Images
How Many 2017 Grammy Nominations Did Beyonce Get? She Cleaned Up
There is no denying that Beyoncé's critically acclaimed Lemonade changed the way we view, internalize, appreciate, and understand music. There's also no denying that 2016 proved just how much of a cultural and influential force Queen Bey is in the industry. And there's no better exemplar of that than Tuesday morning's Grammy nominations announcement. If you were hoping that the award show would #bless the Queen with the thanks she deserves, then you don't have to look far. So just how many 2017 Grammy nominations did she get? Take a seat, will you? 'Cause we're going to be here for a minute.
Lemonade aired almost seven months ago and remains a talking point among fans and those in the television, production, music, design, and creative industries. As a fan of the album and literally every inch of music Beyoncé puts out into the world, I find Lemonade to be vastly important to anyone with a pulse, but I'll save that speech for another day. Lemonade also helped further the conversation by women of color and black women living in America in 2016. The importance of Lemonade, illuminated beautifully by those who felt closest to the story that Beyoncé had told, has trace roots not only in 2016 America, but as far back as the earliest origins of black women in the United States.
Beyoncé's "Formation" started off the 2017 Grammys nomination announcement by earning a nomination for Record Of The Year. That honor was followed up by another nomination for Song Of The Year, also for "Formation." Lemonade as a whole was nominated for Album Of The Year. "Hold Up" was nominated for Best Pop Solo Performance, and "Don't Hurt Yourself" was nominated for Best Rock Performance. Lemonade was nominated in the Best Urban Contemporary Album category, and "Freedom" was nominated in Best Rap/Sung Performance. "Formation" was then again honored with the Best Music Video nomination, while Lemonade received an honor in the Best Music Film category. That brings Queen Bey's grand total this year to nine Grammy nominations.
And clearly, the beyhive was very, very proud with this morning's announcements:
Here's hoping that in addition to all of the nominations, Beyoncé cleans up the night of the show, too!