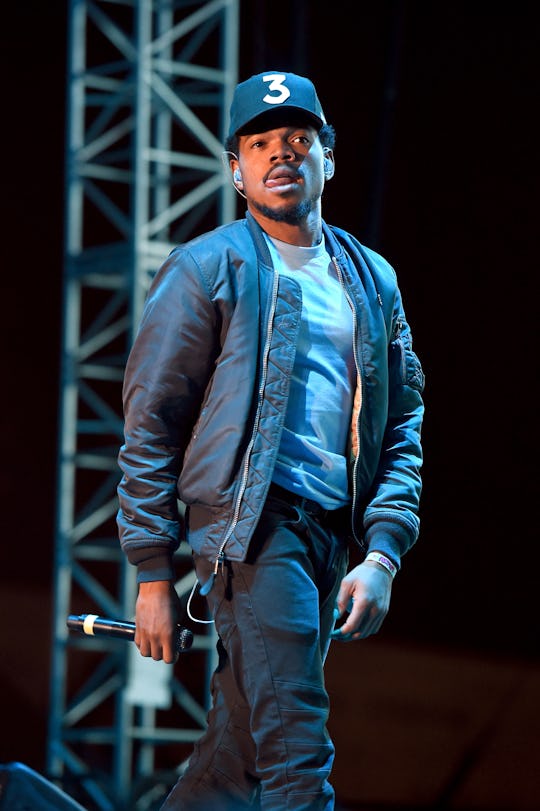 Kevin Winter/Getty Images Entertainment/Getty Images
How Many 2017 Grammy Nominations Did Chance The Rapper Get? He Earned A Few
It was a change in the rules that allowed Chance the Rapper to be eligible for Grammy nominations for his recent streaming-only album Coloring Book: though streaming albums have not been able to be nominated in the past, this is the first year where that's actually possible. It's a timely decision and one that makes a lot of sense, because the way people experience music has totally changed over the last decade or so thanks to the wonders of the internet; allowing streaming albums to be nominated opens up opportunities not only for artists this year but for artists in the future. Now that this twist of the rules has allowed for new possibilities, did it pay off? How many 2017 Grammy nominations did Chance the Rapper get?
Chance garnered four nominations on his own, for Best New Artist, Best Rap Performance, Best Rap Song for "No Problem," and Best Rap Album. Kanye was also nominated for Best Rap/Sung Performance and Best Rap Song for "Ultralight Beam," which features Chance, bringing the total number of Chance's nominations up to six. Whether he wins or not when the time comes is besides the point; being nominated was a triumph in and of itself. "Me being nominated would be a whole other victory," he told Billboard before the nominations were announced. "If I do win, just know that I'll be reveling in it."
But he also sought after the honor once it seemed like a possibility. He took out ads to campaign for the nominations, using the winningly convincing slogan, "Hey, why not me?" As far as arguments go, it's a solid one, and apparently the Grammy voters agreed, because Chance's efforts paid off. It's impressive how well he's done this year, especially taking into account that just last year he would have been ineligible for any awards attention.
And that would be tragic, because Chance the Rapper's success is well-deserved. His album was praised critically, with Pitchfork called Coloring Book "one of the strongest rap albums released this year," a sentiment echoed by more than a few critics and fans. Amongst other compliments, Rolling Stone said Chance was "everything we love about hip-hop in 2016," calling attention specifically to its gospel themes and personal resonance.
It would have been a snub had Chance the Rapper not scored any nominations, so it's a good thing a long-awaited change in the rules allowed him to get the recognition that he deserved.