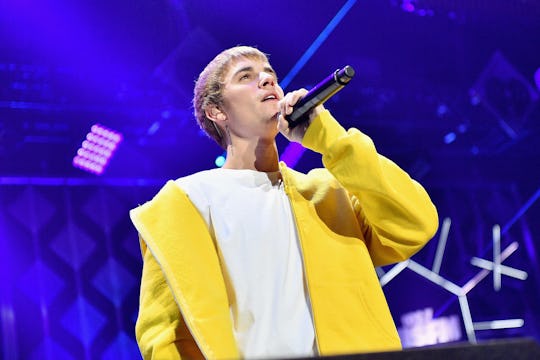 Mike Windle/Getty Images Entertainment/Getty Images
How Many 2017 Grammy Nominations Did Justin Bieber Get? He Scored Big This Year
Award show season is just around the corner, and already, pop culture fans and music buffs everywhere are being treated to a flood of potential big-name winners. Among those mega-star names is singer-songwriter Justin Bieber, who picked up four Grammy Award nominations — two in the major General Field categories — on Tuesday morning. Unlike last year's ceremony, Bieber, it seems, has a lot to brag about this time around.
In February this year, at the 58th Annual Awards, Bieber took home a Grammy in the Best Dance Recording category only, for his collaboration with Skrillex and Diplo on the pop hit "Where Are Ü Now." Previously, in 2011, Bieber was nominated for Grammys in two categories, Best New Artist and Best Pop Vocal Album for his work on My World 2.0. He did not win in either category, being beat out by Esperanza Spalding and Lady Gaga's The Fame Monster, respectively.
In February, following his first ever Grammys win (strange to think, considering how long he's been in the pop spotlight), Bieber Tweeted a thank you to fans, joking that he wasn't present to accept a prized gramophone trophy because that part of the ceremony wasn't televised, according to Billboard, and promising to put on a good show later in the evening (Bieber's collaborators, Skrillex and Diplo, accepted the award at the un-broadcasted ceremony earlier in the day, and the three met up during the ceremony to perform their hits, "Love Yourself" and "Where Are Ü Now").
"Thank you," he Tweeted, adding a smiley-face emoji. "Beliebers... We did it! I love you. Now get ready for the show. Not done yet."
A few years prior, in 2011, the mood was just as jubilant — just not inside Bieber's camp. "Honestly, the whole thing was surreal. [... But] everybody in the press room backstage asked me the same question: 'How did it feel to beat Bieber?' And I said, 'I didn't beat him, it doesn't work like that,'" 2011's Best New Arist winner Spalding told The Recording Academy's Paul Zollo on Monday. "'When this is all over, we're all colleagues. We're doing our things in our respective fields. But I'm the one taking that thing home.'"
Spalding added that the public's use of the phrase "competing against" when comparing her with Bieber — and likewise, the remaining field of nominees — was unsettling, especially considering that all the musicians on the finalists list were just "different."
"We are all musicians and doing our own music," she said. "We are completely different, doing our own thing, and hopefully enjoying it, and each have our own following in the world [...]."
On Tuesday morning, Bieber seemingly had nothing to worry about, scooping up at least two major nominations early in the General Field categories; Specifically, Bieber received nods in the Song of the Year category for his hit "Love Yourself," with Benajmin Levin and Ed Sheeran, and the Album of the Year category for his work on Purpose.
Further down the list, Bieber also scored nods in the Best Pop Solo Performance category for "Love Yourself," and the Best Pop Vocal Album category for Purpose. In the Producer Of The Year, Non-Classical category, Bieber's collaborator on the hit "Cold Water" (in which Bieber was featured), Benny Blanco, was also tapped for a nomination.
Over on Twitter, Bieber's fans were justifiably thrilled with the nominations. "I'm crying, I'm so happy, I want him to win them all," one fan Tweeted excitedly. "I am so immensely, unconditionally proud of you, Justin Bieber," another fan wrote. "Giving your all to your art has paid off."
It may have taken a while for the singer-songwriter to finally add a few more Grammy nominations to his list of accolades, but given this year's big nods — whether Bieber takes home the gramophone for any of them or not — it seems it was well worth the wait.