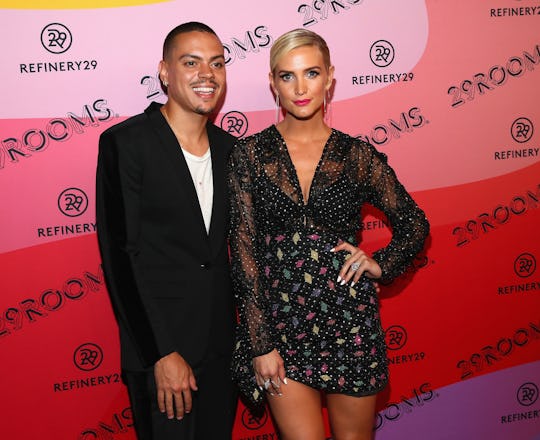 Astrid Stawiarz/Getty Images Entertainment/Getty Images
Here's A Refresher On Ashlee Simpson's Discography
Ashlee Simpson is opening herself back up to the public after a nearly decade-long break spent recovering from two back-to-back reality shows and her now-infamous SNL lip sync snafu. But viewers who are tuning into her new E! reality series Ashlee + Evan may be wondering: how many albums has Ashlee Simpson released? The series follows her as she works on her first studio album in 10 years. That project is a duet album with her husband Evan Ross, son of Diana Ross and actor most recently spotted on Fox's Star. But she does plan to pursue solo work again once the joint album is finished.
Simpson released three albums in the '00s: her debut Autobiography, which she's best known for, in 2004; her sophomore followup I Am Me in 2005; and Bittersweet World in 2008. After a stint on Melrose Place reboot the following year, she took a break to focus on raising her family, 9-year-old Bronx Mowgli Wentz (son of her ex, Fall Out Boy bassist Pete Wentz), and 3-year-old Jagger Snow Ross. She and Pete separated in 2011, and Simpson and Ross were married in 2014. Having both come from famous families — Evan under the shadow of his legendary mother and Ashlee following in the footsteps of her country music star older sister Jessica — the couple were drawn together, and they quickly became musical collaborators, too.
"My biggest thing on the show, and in general, is finding my balance of how [I'm a mom] and do all of the work in the studios and my hours, and also make sure I'm there for school," Simpson told Rolling Stone in an interview after the show's premiere. "For me, it's so important that I find that balance, and you see me really trying to discover it."
Ross seemed to be the more trepidatious one about jumping into reality TV; the couple has remained far, far away from the spotlight for most of their relationship. "I think in a lot of senses we still are very private," he added in the joint Rolling Stone interview. "I think that with this show, you give up a lot of privacy to let people on this journey with us."
And Simpson freely admitted to gently nudging her husband into the idea: "I was like, 'OK, babe, we have to open our hearts and just do this because if you do it, you have to be there and open yourself and open the door.'"
The couple remains hopeful that by documenting the making of their joint album, they can convince skeptics who may think their sounds are an odd match. Simpson's career has mostly been in the pop-rock field while Ross works more with soul music. But with Diana Ross offering up a track on the album and her full support of the couple's project, they're optimistic that the album could be a hit for both of them. "There wasn't a limit on [whether or not] it's pop or it's soul," Simpson said. "I feel like there was a discovery of what our sound was together."
Ashlee + Evan airs Sunday nights on E!