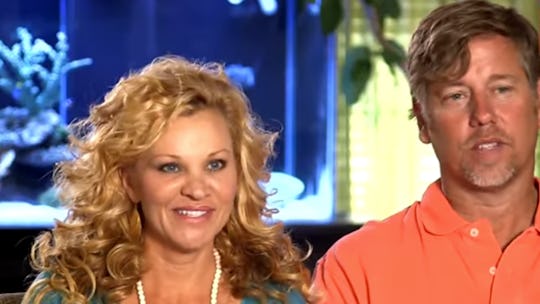 TLC/YouTube
The 'Our Wild Life' Stars Have More Animals Than You Can Imagine
TLC's latest series, Our Wild Life, is all about the Abrams family, who live in Pinetops, North Carolina with their menagerie of animals. Amongst the animals living at their home are a zebra, a wolf, a lemur, and a bird that swears. But how many animals do Bobbie Jo and Jerry Abrams have? You'd be surprised.
The family currently has over 80 animals living on their 16 acres of land and inside their home. Along with the animals, who Bobbie Jo calls her "fur babies," Bobbie Jo and Jerry also have three children and a nanny named Naa Naa. With so many people and animals around, Bobbie Jo and Jerry obviously have their hands full, and this hectic living situation was perfect for a reality series.
Our Wild Life premiered on May 22 and since it's begun it's garnered mixed reviews. While many animal lovers enjoy the show, with some even saying the Abrams' home life was "goals," others were concerned about the well-being of all the animals living with the Abrams. One Twitter user questioned if the family has taken precautions to protect the animals and humans from spreading diseases to each other.
PETA Foundation Director of Captive Animal Law Enforcement Brittany Peet also expressed her concerns about the Abrams' living situation with GoodHousekeeping.com:
A human household is no place for dozens of animals who all have unique needs and temperaments and require expert care. In the first episode alone, the family members allow a variety of species to roam loose around the home — where they could easily injure themselves or others — and even take a baby kangaroo into town for a trip to the grocery store.
That being said, Bobbie Jo has made it clear that what is shown on TV is actually an exaggeration of the real living conditions of the animals. She told The News & Observer, "The goat doesn't come in [the house] (except when he was a baby, and then he wore diapers). The pigs are potty-trained. A lot of them do start out as babies in the house. As they get older and they are not potty-trained, trust me, they get evicted." The only animals who are almost always inside are the birds, the sloth, and the lemur, who Naa Naa calls "the jumping monkey."
Additionally, it is worth noting that Bobbie Jo considers her backyard to be an actual zoo. Bobbie Jo is the owner and operator of It's a Zoo Life, where she organizes parties, seasonal events, and a zoo camp for children. Thus, this isn't your typical backyard and it seems like Bobbie Jo and the rest of the family do take the precautions necessary for all of their animals.
Viewers don't just tune into the show to see the animals though. They also watch for the family dynamics. For instance, Naa Naa actually doesn't love the animals all that much. She really sticks around for the youngest Abrams kid, Jaxon. Naa Naa won a $200,000 lottery a few years ago, but her love for Jaxon has kept her at the house with the Abrams and their animals. Still, that doesn't stop Naa Naa from trying to convince the Abrams to stop adopting so many animals. Of course, they don't listen.
Besides Naa Naa's aversion to animals, the family also faces regular challenges that families without 80 animals face on the show. Bobbie Jo also deals with issues when it comes to running It's a Zoo Life. Thus, there's plenty to see on Our Wild Life, and it's definitely worth a watch if you haven't seen it yet.
Our Wild Life airs on TLC on Tuesdays at 10 p.m. EST.