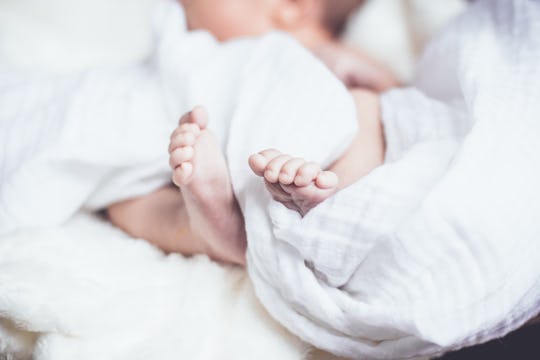 How Many Babies Actually Get Switched At Birth? The Numbers Aren't So Clear
It's every parent's nightmare: Finding out your newborn baby has been switched at birth. It's a horrifying situation that, along with so many of the other concerns, emotions, and changes parents go through after having a baby, is the last thing anyone would want to process – it's terrifying. Every now and then, reports of babies being switched at birth make news. But how many babies actually get switched at birth?
There are a number of TV shows and movies that capture the nightmarish situation of babies being mistakenly switched at birth. For starters, Lifetime's 1999 film Mistaken Identity (apparently based on real life events), and ABC Family's current series Switched At Birth, represents two somewhat similar plots in that both cover instances in which two babies were mistakenly switched at their hospitals. In real life though, various reports from parents throughout the years have revealed instances where a similar situation actually occurred at hospitals.
But documented statistics of babies being mistakenly switched at hospitals appear to be scarce. Within the past decade, a few cases in which babies were apparently switched at birth for a time period before leaving a hospital in the United States – an alleged case in 2012, one documented in a Washington Post editorial this past April, and an alleged incident in 2008 – have made major news outlets. But it's not clear how this terrifying situation statistically matches up.
Apparently some hospitals, like the Chicago Medicine Comer Children's Hospital, has taken measures to prevent such an incident: As reported by the student-run newspaper The Chicago Maroon this past October, the mother and baby are given matching sensor tags.
One of the concerns, in the event of a mistaken switch at a hospital, is if a newborn is breastfed by someone other than their mother. The Centers for Disease Control and Prevention even provides information on what new mothers should do in the event their child has been breastfed by someone else. The list of steps the CDC provides includes the following:
- Inform the mother who expressed the breast milk of the bottle switch.
- Ask when the breast milk was expressed and how it was handled prior to being delivered to the caretaker or facility.
- Ask whether [mother] has ever had an HIV test and, if so, would she be willing to share the results with the parents of the child given the incorrect milk.
- If she does not know whether she has ever been tested for HIV, would she be willing to contact her physician and find out if she has been tested?
- If she has never been tested for HIV, would she be willing to have one and share the results with the parents of the other child?
Having your baby mistakenly switched at birth, even if for a relatively short time period, is undoubtedly a situation no parent should go through. Until more concrete statistics are available to worried parents though, it's good to know that hospitals and medical providers are offering up helpful solutions and steps to prevent such an incident from occurring.