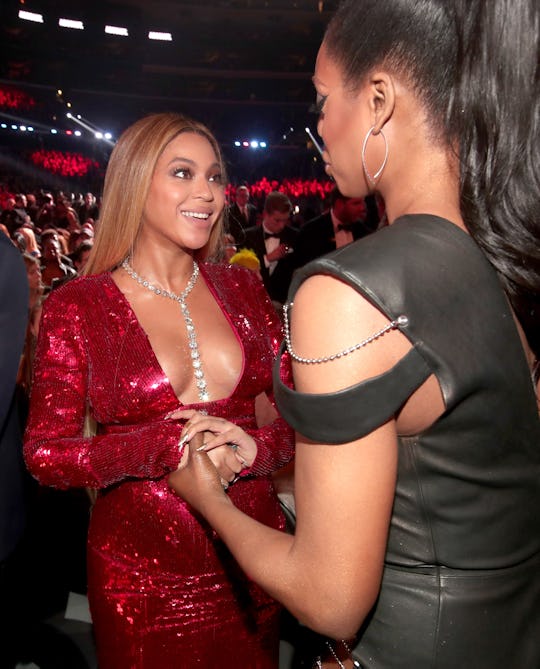 Christopher Polk/Getty Images Entertainment/Getty Images
Black Artists, Beyoncé, & The Grammys: A History
The instantly infamous passing over of superstar Beyoncé's Lemonade in favor of fellow superstar Adele's 25 for Album of the Year at the 2017 Grammys was the snub heard 'round the world. In the aftermath, music fans everywhere are wondering: How many black artists have won Album of the Year at the Grammys? The numbers are troubling.
According to The Grio, only 10 black artists have won Album of the Year, with Stevie Wonder taking the honor three times, and Herbie Hancock being the most recent winner for 2008's River: The Joni Letters, a jazz compilation of Joni Mitchell covers. In recent years, a pattern has emerged: black artists win in specific categories, like Urban Contemporary or Best Rap Album, but lose to white artists for the cross-genre awards, like Album of the Year or Song of the Year. As blogger Zeba Blay pointed out this week in The Huffington Post, "of the three times she's [Beyoncé's] been nominated for Album of The Year, she's lost out to Taylor Swift, Beck, and now Adele... The Grammys have a long legacy of using important and popular black artists like Beyoncé, Rihanna and Kendrick Lamar to boost ratings while failing to give them the big noms and awards of the night."
In her acceptance speech, Adele protested her own win, saying, "I can't possibly accept this award, and I'm very humbled, and I'm very grateful and gracious, but my artist of my life is Beyoncé, and this album, for me, the Lemonade album, was just so monumental." Later, backstage, Adele added, "I was completely rooting for her, I voted for her. I felt like it was her time to win. What the f—k does she have to do to win album of the year?"
Of course, Adele isn't the first person to be frustrated by cases of apparent racial bias from the National Academy of Recording Arts and Sciences, the group that administers the Grammys. Two years ago, Rolling Stone ran a piece, "Do the Grammys Have A Race Problem?", in which journalist Raquel Cepeda did not mince words. She argued that when black artists win Grammys in both cross-genre and genre-specific categories, it's typically for albums that are apolitical and soft around the edges:
The hip-hop artists, including those who've managed somehow to strike an emotional chord with a broad audience, that have even hinted at self-determination, political or social activism, and presented unprocessed depictions of life in urban America, have never walked away with a Grammy. Not Public Enemy, or N.W.A, Wu-Tang Clan, Mobb Deep, and dead prez? Nope. And, brace yourselves, not even Notorious B.I.G. or Tupac Shakur... On what planet did voters with the most basic knowledge of hip-hop culture and rap music think when Macklemore beat out Lamar for Best New Artist last year?
Cepeda certainly makes a compelling point, and these words were written before Lemonade existed. This week, music critic Todd VanDerWerff pointed out at Vox that Ray Charles, one of the 10 black musicians to win Album of the Year, won posthumously in 2005 for Genius Loves Company — "a rather weak album of duets with other famous people, not for his groundbreaking work in the 1950s and '60s," VanDerWerff wrote.
And in a strongly-worded editorial regarding Lemonade's loss at USA Today, music writer Maeve McDermott argued that the Academy's historical preference for best-selling albums doesn't explain 25's award dominance, because both albums sold extremely well, even though 25 sold more. Interestingly, multiple music writers surmised that the reason the Urban Contemporary Album category was one of the nine televised Grammys was because the Academy feared that Lemonade wouldn't win any of the three major awards for which it was nominated — and this turned out to be the case.
Alas. It's a sad moment in music history, but an illuminating one as well. Even though Lemonade didn't win the most coveted Grammy, it has certainly won in other ways. Not least, it has inspired tens of millions of fans — and Beyoncé's daughter Blue Ivy, adorably, is one of them.