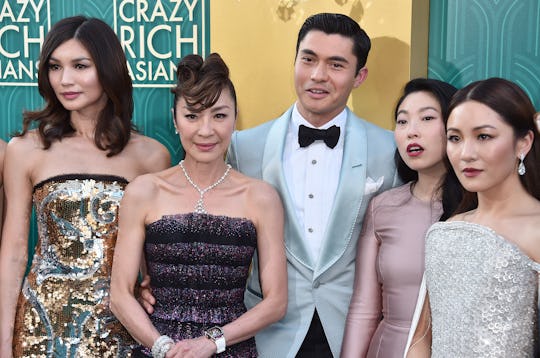 Alberto E. Rodriguez/Getty Images Entertainment/Getty Images
'Crazy Rich Asians' Is Actually The First Of Three In A Major Book Series
Crazy Rich Asians hasn't even officially hit the theaters yet, and it's already killing it: the film reviews have been super positive, and it's boasting a 100 percent fresh score on Rotten Tomatoes. Given that it also had the challenge of living up to the wild popularity of the best-selling book it's based on, that's definitely a huge accomplishment, but if you haven't already, you're definitely going to want to check out Kevin Kwan's follow up offerings. How many books are in the Crazy Rich Asians series? There are actually two additional books that pick up where the original left off: 2015's China Rich Girlfriend, and 2017's Rich People Problems. That means that a movie sequel is certainly likely — but director Jon Chu told E! News that it isn't a done deal just yet.
At the film's red carpet premiere, Chu explained that while the two additional books are definitely a good sign for fans hoping for additional screen adaptations, "it's up to the audience" to make them a reality. Chu said:
We would love to tell more story. We would love to also have other people tell their stories as well. We'll see. But it's up to the people who show up [to see the film.]
So far, things are (hopefully) looking pretty promising. According to Mashable, 93 percent of Rotten Tomatoes users polled rated the film as a "want to see" flick, and according to The Hollywood Reporter, Crazy Rich Asians is expected to have a $20 million debut. But the film is also getting an additional push: according to Cosmopolitan, in August, Chu and more than 100 Asian-American "creative, founders, and leaders" announced plans to buy out theaters to help boost the film's opening weekend.
The film's performance is about far more than simple box office mathematics, though. If it draws audiences, Crazy Rich Asians has the potential to make a huge statement about the value of telling stories on the big screen that don't just revolve around white leads. And in the same way that the success of films like Wonder Woman and Black Panther proved that superheroes don't just have to be a bunch of white dudes, Crazy Rich Asians can be solid proof that you can absolutely have a successful rom-com featuring an all-Asian cast.
So what can you expect from the two follow-up books? While Kwan's 2013 debut told the story of California-born Rachel accompanying her longtime boyfriend, Nick, to his best friend's wedding in Singapore (where she ends up learning he happens to be considered a hugely eligible bachelor from one of the wealthiest families in Asia), China Rich Girlfriend takes the story a step further. After she and Nick tie the knot, Rachel actually learns (spoiler alert!) that her biological dad happens to be a Chinese billionaire. Drama, naturally, ensues, and the story ultimately wraps up with Rich People Problems, which follows the Shang-Young clan as they duke it out over the massive fortune of Nick's dying grandmother, family matriarch Su Yi.
In addition to being international bestsellers, the trilogy has earned rave reviews for its fun and light-hearted satirical take on Singapore's mega-rich, and if you haven't checked them out yet, it sounds like you definitely won't be left disappointed. But if you're already a fan? The film, according to Mashable, is a "mostly faithful book-to-screen adaptation," that "fulfills its promise of a solid rom com," so it doesn't sound likely that you'll be left totally disappointed by a movie that doesn't live up to your book expectations (though, let's be honest, the books are always better, right?).
Either way, Chu's comment definitely seems to be the most important takeaway. If you liked the books, and want to see at least one sequel come to life on the big screen? Then this is one film you'll definitely want to catch in the theaters.