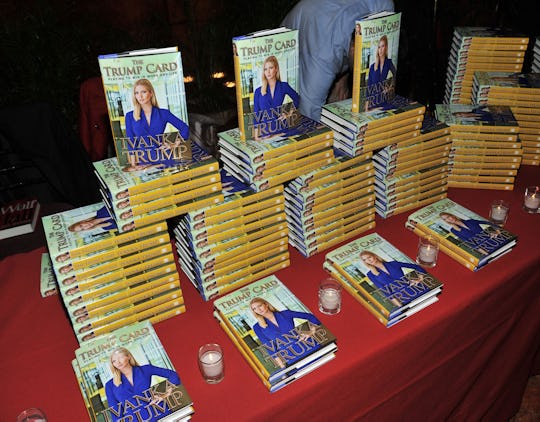 Andrew H. Walker/Getty Images Entertainment/Getty Images
How Many Books Has Ivanka Trump Written?
This week, "first daughter" Ivanka Trump is in the news for something other than politics. The president's daughter and businesswoman in her own right is dropping her second book on Tuesday. Like her first, the title, Women Who Work, is geared toward young women with ambitions in the world of business. How many books has Ivanka Trump written? Many may be surprised that the one out this week isn't her first.
In 2009, long before her father's political aspirations were made manifest with a presidential campaign, Ivanka Trump published a self-help book for women called The Trump Card: Playing to Win in Work and Life. She was 28 years old at the time, and her experience was essentially limited to working for and presumably observing her father's business. In the early chapters, she takes pains to convince readers that the perceived advantages of her life, at times, were also hindrances, and while she doesn't expect the reader to forget she's Donald Trump's daughter, she does implore them to "get over it."
In an interview with Elle Magazine, she further explained:
There will always be people who question my validity and question whether I should have a seat at the table. The fact is, you just can't allow that to restrain you. If you do, you'll become paralyzed by it. I'm the first to admit that I capitalize on every asset that's available to me, but I believe that everyone has unique points and areas of opportunity that they, too, have to identify and capitalize on.
The Trump Card has chapters on everything from market sense to establishing one's personal values, and is punctuated with what she calls "Bulletins From My Blackberry," which are inspirational quotes from people like Arianna Huffington and Roger Ailes.
Her newest book, which will hit shelves on Tuesday, is entitled Women Who Work: Rewriting the Rules for Success. It's intended audience is similar to her first book, no doubt, and aspires to the success of Sheryl Sandberg's Lean In. Given Ivanka Trump's new highly political role, however, she announced that she will not be doing a book tour to promote the book, according to The Washington Post. Additionally, she has created the Ivanka M. Trump Charitable Foundation, which will absorb the unpaid portion of her advance from the book's publisher, and will also collect any royalties that the book makes once it's published. She also said that she has chosen two organizations to each receive $100,000 from the proceeds: the National Urban League and the Boys and Girls Club of America, to "support the economic empowerment for women and girls", according to The New York Times.
Women Who Work is described as being a practical guide for women who want to be "working smarter, not harder; integrating our personal passions and priorities with our professional goals in order to architect lives we love." It hits shelves Tuesday, May 2.