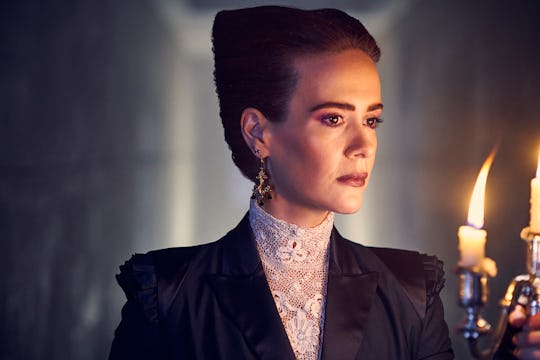 Kurt Iswarienko/FX
Sarah Paulson Plays Multiple Roles In 'AHS: Apocalypse'
Sarah Paulson is no stranger to playing multiple characters on American Horror Story, but Season 8 will be taking things to the next level. She debuted a new character in the season premiere, but she'll also be bringing back a few from seasons past. So how many characters does Sarah Paulson play on AHS: Apocalypse?
Paulson will be tackling three different roles in total. In "The End," viewers met the first of those characters: Wilhelmina Venable, the woman who runs a bunker known as Outpost 3. It appears to be one of the few safe places left after radiation from the apocalypse left much of the surface of the earth unlivable — but "safe" is a relative term. Ms. Venable and her henchwoman Ms. Meade have seized total control of the bunker after losing contact with the Cooperative, the group that technically owns it. The women exercise that control by tormenting the people in their care.
Ms. Venable is very much a mystery this early in the season, but the other two characters Paulson is playing are much more familiar to viewers. She will be reprising both Cordelia Goode from Coven and Billie Dean Howard from Murder House, though it won't be the first time the latter has returned.
Billie Dean was the very first character Paulson ever played on AHS. Though she didn't play an especially big part in Season 1, she played an important one. She was a medium who delivered a prophecy that might be coming into play in Apocalypse. She predicted the arrival of an Antichrist who would bring about the end of days, a child conceived by a human and a spirit. That child turned out to be Michael Langdon, who was born at the end of Murder House and arrived to Outpost 3 in "The End" as an adult with potentially nefarious intentions.
Billie Dean previously returned in the season finale of Hotel. Her career had grown considerably since Season 1 and she had become the host of her own TV show. She travelled from one haunted location to the next to commune with the spirits trapped there, though she was overwhelmed by the sheer amount of ghosts living in Season 5's Hotel Cortez. She could be back to deal with Michael now that he's delivering on her prediction, but she might also return to chat with characters from beyond the grave.
It seems like Cordelia might making an appearance before Billie Dean, because she can be spotted in the promo for Episode 2, "The Morning After." Cordelia was one of the witches of Coven, and she went through a lot over the course of that season. Her mother was neglectful and sometimes emotionally abusive, which robbed Cordelia of her confidence in her own magical abilities. She also found out her husband was a witch hunter intent on destroying her people. Then she was blinded with acid, had her eyes replaced by those of two murdered witches, and willingly blinded herself a second time to access powers of premonition. She finally emerged triumphant as the Supreme, the most powerful witch in her generation.
If Michael Langdon proves to be a genuine threat this season, then Cordelia might be the only one strong enough to challenge him. It's too soon to know exactly how much Paulson's three characters will affect the story, but she'll certainly have a large presence in Season 8.