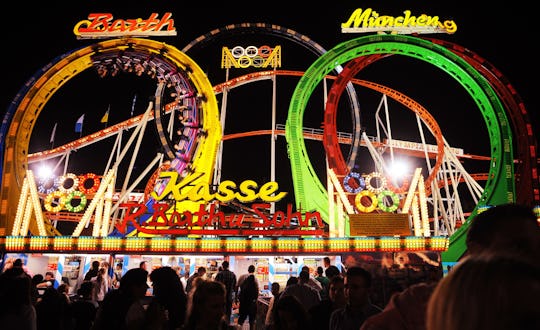 JOE KLAMAR/AFP/Getty Images
How Many Child Fatalities Are There At Theme Parks Each Year? No One Really Knows
Summertime is the season of leisure and vacations. But for families with young children, it can sometimes seem like a break from routine can present an added risk. For one Nebraska family, a trip to Disney World in Orlando this week caused anguish when a 2-year-old splashing around in the water near a resort there died after an alligator dragged him into the water. The event was an anomaly, although gators are certainly ubiquitous in Florida, but it has many wondering whether anything like this has ever happened before, and, more broadly, how many child fatalities there are at theme parks each year.
Most of the time, when a report of a theme park injury or death hits the news, it's associated with a roller coaster. For example, an Ohio man who entered a restricted area in July 2015 to retrieve belongings he had lost while on Cedar Point "Raptor" roller coaster was ultimately fatally struck by a train running on the ride. And two years earlier, a 52-year-old woman named Rosa Irene Ayala-Gaona was ejected from her seat on a coaster at Six Flags Over Texas, falling 75 feet and striking a metal beam, an ordeal that killed her.
Despite this, researchers told NBC News shortly after Ayala-Gaona's death that there was no system for tracking roller coaster deaths in place. Using self-reported data from a small sample of "fixed-site amusement facilities" in the United States, the International Association of Amusement Parks and Attractions reported that according to 2014 numbers, the likelihood of being seriously injured at a fixed-site ride in this country is about one in 16 million. So, not exactly high. But according to the report, an estimated 18,062 people were injured on amusement park rides between 2003 and 2014, but the report did not mention amusement park deaths.
Still, NBC News reported in 2013 that about 4,400 children per year are hurt on roller coasters, carnivals, and kiddie rides, according to research from Dr. Gary A. Smith, director of the Center for Injury Research and Policy at Nationwide Children's Hospital in Columbus, Ohio. His research does not include death rates, because the National Electronic Injury Surveillance System does not track them.
The watchdog site Ride Accidents has comprehensive data for roller coaster fatalities for the 25-years period between 1972 and 1997, and it describes 31 roller coaster incidents. The Consumer Product Safety Commission found that there were 52 deaths associated with amusement park rides between 1990 and 2004, according to NBC News.
In Orlando, officials are working to make sure that patrons at Disney World resorts safe from gator attacks by temporarily shutting down their beaches and improving signage to include more comprehensive warnings. The incident scared people because it was unexpected, in the same way that roller coaster deaths often are. Dennis Speigel, president of consulting firm International Theme Park Services, told USA Today that roller coaster accidents get a similar amount of attention to airplane crashes. "People come to a theme park to have a good time, not to get hurt," he said, according to the newspaper.
For it's part, Disney is doing its best to buff up safety in any way it can. "All of our beaches are currently closed, and we are conducting a swift and thorough review of all of our processes and protocols," Jacquee Wahler, Vice President of the Walt Disney World Resort told Romper in a statement. "This includes the number, placement and wording of our signage and warnings."
While data on non-roller coaster-related child deaths at amusement parks has not been compiled, there have been a number of Disney World deaths involving kids throughout the decades. Two people died at Disney World in 2014, and The Orlando Sentinel reported last year that a 3-year-old had drowned in a Disney resort pool. In 2010, a bus at Disney's Wilderness Resort struck and killed an 11-year-old, according to a local NBC affiliate, and long before that, a 4-year-old died by drowning in a moat surrounding Cinderella Castle at Disney's Magic Kingdom. The instances are quite alarming when considered together, but the reality is that they are very few and very far between.
Data on annual fatalities is often disparate, and, in many cases, outdated and incomplete. It also doesn't separate adult and child injuries and fatalities. But the IAAPA reported that "335 million guests safely enjoyed 1.6 billion rides at 400 U.S. amusement parks," based on 2014 data, so most people visiting amusement parks will do so without an incident.
Nevertheless, it's important to remember always follow safety rules, and not to let fear of what what's unlikely to happen ruin the fun.