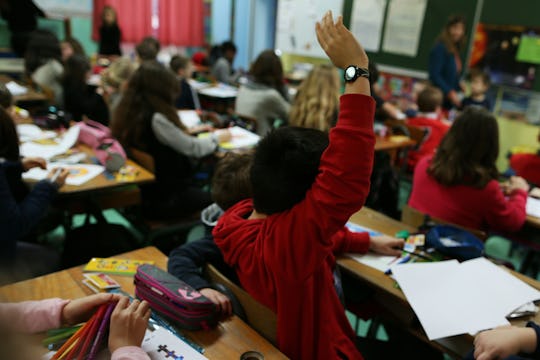 CHARLY TRIBALLEAU/AFP/Getty Images
How Many Children Are Misdiagnosed With ADD & ADHD A Year? The Numbers Are Ridiculous
About 6.4 million children have been diagnosed with ADD and ADHD, according to studies by the Centers for Disease Control. It is one of the most common childhood disorders, affecting about 11 percent of American children. ADD and ADHD are mental disorders that are diagnosed by symptoms of having trouble paying attention (ADD), impulsiveness, and hyperactivity (ADHD). Children under the age of 16 must show symptoms for six months or more in order to be diagnosed. However, some psychologists and health experts believe that the disease is grossly misdiagnosed. How many children are misdiagnosed with ADD and ADHD a year? Nearly one million children a year may be mislabeled with ADD, and may not have any biological markers of the disorder.
In some states, more than 10 percent of children are taking medications for ADD and ADHD, CDC statistics show. But medications can have adverse affects on the cardiovascular system, causing a spike in blood pressure, which is a completely unnecessary side effect for those who have been misdiagnosed. There are huge gender and racial disparities among who gets diagnosed with ADD and ADHD: the CDC reports that 13 percent of boys are diagnosed with ADHD, compared with 5 percent of girls. And twice as many black boys are diagnosed with the disorder as white boys.
The 2010 study by Todd Elder, an economics professor at Michigan State University, finds that in some cases, the children being diagnosed with ADD and ADHD are younger than their peers in the same grade level. "There's a big difference between a 5-year-old and a 6-year-old, and teachers and medical practitioners need to take that into account when evaluating whether children have ADHD," Elder said in an interview with Michigan State University Today.
Peter Briggins, a psychologist, wrote for The New York Times that the symptoms of ADD are "spontaneous behaviors of normal children." He adds:
When these behaviors become age-inappropriate, excessive or disruptive, the potential causes are limitless, including: boredom, poor teaching, inconsistent discipline at home, tiredness and underlying physical illness. Children who are suffering from bullying, abuse or stress may also display these behaviors in excess. By making an A.D.H.D. diagnosis, we ignore and stop looking for what is really going on with the child. A.D.H.D. is almost always either Teacher Attention Disorder (TAD) or Parent Attention Disorder (PAD).
Dr. Nicole Brown, a pediatrician, analyzed the findings of a national study of 65,000 children and found that children diagnosed with ADHD also experienced markedly higher levels of poverty, divorce, violence, and family substance abuse. Brown said in an interview with The Atlantic that rather than these kids having ADHD, it's possible that the symptoms of trauma are being mistaken for ADHD. Doctors must observe children to make a diagnosis, but as Brown told The Atlantic, "In our 15-minute visits — maybe 30 minutes at the most — we don't really have the time to go deeper."
Another reason why ADD may be misdiagnosed in children is because they have a learning disorder. "Fifty percent of kids who have learning disabilities have inattention," said Dr. Nancy Rappaport, a Harvard Medical School professor, in an interview with The Child Mind Institute.
If you feel your child may have been misdiagnosed with ADD or ADHD, here is a website that can help determine your next steps.