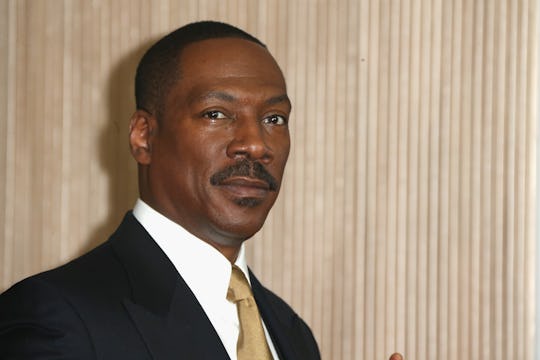 Frederick M. Brown/Getty Images Entertainment/Getty Images
Eddie Murphy Is Going Into The Double Digits When It Comes To His Kids' Head Count
The stork is on its way to Dr. Doolittle yet again! And this little baby will have quite a few siblings to play with. Just how many kids does Eddie Murphy have? The number might surprise you.
People first reported that Murphy is expecting a child with his longtime girlfriend on Tuesday morning, pointing out that the new baby will be the star's tenth child. That's right, ten. Murphy has one child, 2-year-old Izzy Oona Murphy, already with Butcher, who he has been dating since 2012, but he also has five children with his ex-wife, Nicole Murphy. They are 28-year-old Bria, 25-year-old Miles Mitchell, 23-year-old Shayne Audra, 18-year-old Zola Ivy: 18, and 16-year-old Bella Zahra. He and Nicole married in 1993 and divorced in 2006.
Murphy also shares 29-year-old son Eric with Paulette McNeely; 27-year-old Christian with Tamara Hood; and 11-year-old Angel Iris Murphy Brown, with former Spice Girl Mel B, or Scary Spice. His coming child is due in December, according to USA Today. "Eddie Murphy and longtime girlfriend Paige Butcher are pleased to announce that they are expecting their second child in December," a rep for the actor said in a statement to People. If you're a bit shocked by the news and didn't realize that Murphy had such a big family, don't feel bad. Twitter was pretty surprised, too.
Murphy's children are spread throughout three decades, meaning that he has quite a bit of parenting experience under his belt. He is a a proud dad, by all accounts. A 2011 profile on Murphy by Rolling Stone stated that he keeps photos of all of his children on a shelf in his home. It looks like he should be shopping for another frame to add to the collection!
His daughter Shayne Audra posted a photo of herself and some of her siblings sitting around Murphy and Butcher last Christmas, shortly after little Izzy Oona was born, that shows the scope of their family. Murphy has spoken up numerous times about his love for his children; there's plenty to go around.
While attending his daughter Bria's art show in November of 2016, he explained to reporters how supporting her made him feel, according to People:
I'm glad that people get to see how talented she is. We've known for years how talented she is. It's exciting to see her stuff up on the walls. I'm having all those proud parent feelings.
He went on to share how special each and every one of his children is:
I really got lucky with my kids. There really isn't a bad one in the bunch, everyone turned out to be really good people. None of my kids are like me, and I'm sure parents say this all of the time, they are all totally different from each other. None of them are chips off the old block. They all have their own thing. They're good kids.
That same year, Murphy spoke with Entertainment Tonight about his relationship with his numerous children and how they enrich his life. "The brightest part of my life is my kids," he said. My relationship with them, and my world revolves around them ― even the old, gray bald ones." Seriously, how sweet is that?
Murphy's comments on fatherhood make it pretty obvious that this coming baby will be surrounded by a lot of love. With siblings 20 years or more his or her senior, and little Izzy Oona much closer in age, the youngest Murphy child will be privy to a variety of advice, experiences, and role models. What a lucky little one.