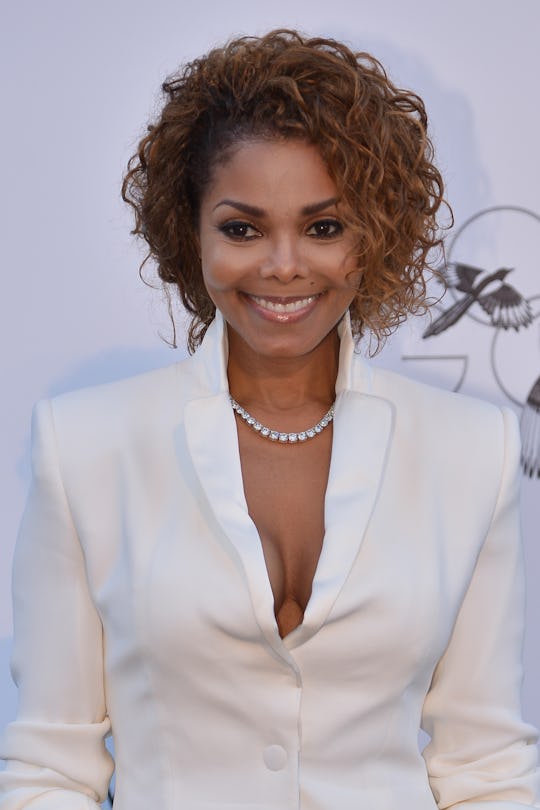 ALBERTO PIZZOLI/AFP/Getty Images
How Many Children Does Janet Jackson Have? She's Expecting Her First
The youngest sister of the famed Jackson family has a baby on the way and she's reportedly "super excited" about it all. The 50-year-old songstress has been spotted recently in London with a burgeoning baby bump, so some fans may be wondering how many children Janet Jackson has while they wait for the inconic singer's bundle of joy to make his or her much-anticipated arrival. According to E! News, Jackson is expecting her first child with her husband Wissam Al Mana.
The singer and Qatari businessman have kept a relatively low profile since news broke of Jackson's first pregnancy back in May. But because of her age, her pregnancy has reportedly been a bit difficult at times.
A source recently told E! News that Jackson hasn't been "feeling that great." The insider said:
She has gained more weight than she anticipated. It hasn't been the easiest pregnancy at all. She is excited to have her baby, and that's the light at the end of this tunnel.
According to Us Weekly, Jackson needed to cancel the second half of her Unbreakable World Tour and delay shows until 2017. "My husband and I are planning our family, so I'm going to have to delay the tour," Jackson said in a video back in April. "Please, if you can, try and understand that it's important that I do this now. I have to rest up, doctor's orders!"
And these doctor's orders are very much warranted because pregnancy for a woman at Jackson's age usually comes with a slew of health risks for both the mom and the baby, such as a higher chance of miscarriage, preeclampsia, gestational diabetes, and chromosome disorders.
"Whatever can go wrong goes wrong at an increased rate for a woman who is older starting pregnancy," medical director for the March of Dimes Dr. Alan Fleischman told CNN in 2010.
Over the summer Jackson's older brother Tito Jackson told People his sister was doing "very well." "She's doing very well," he said in an interview with People back in June. "She's taking it easy. [She's] hoping for a healthy baby."
E! News reported in early September that the mom-to-be had been experiencing some pregnancy-related complications and she was under "doctor's orders to rest" until the baby arrives.
While pregnancy comes with risks at any age, Jackson — who has not revealed the sex of her baby or her due date — is not that much of an anomaly at 50 years old. According to the Centers for Disease Control and Prevention, almost 700 children were born to moms who were 50 and older in 2013, but most were the result of various fertility treatments.
Even though conceiving at Jackson's age is rare, her first pregnancy seemed to be fate. The singer told Harper's Bazaar in 2009, "If I'm really supposed to have kids, it will happen, if that's God's plan for me."