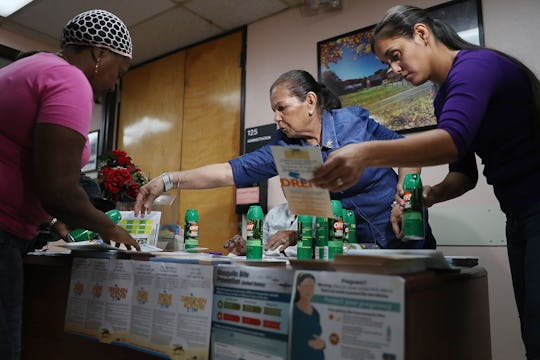 Joe Raedle/Getty Images News/Getty Images
How Many Clinics Are Available To Treat Zika Patients In Puerto Rico? It's An Emergency
Zika has finally made it into the continental U.S., but it's been taking over Puerto Rico since late spring. According to the Centers for Disease Control, there are almost 10,690 people with Zika, including 1,035 pregnant women as of Friday. So how many Zika clinics are in Puerto Rico to treat all of these patients? It's sort of a crisis right now, if only because the island's economy is in "shambles," according to The New York Times, and the virus is spreading quickly. The CDC is expecting 80 percent of the population to get the virus within the year.
The CDC has a permanent lab on the island and has been transferring staff and equipment to process blood tests. They've also asked for $225 million to tend to Zika patients as part of President Obama's requested $1.8 billion in Zika funding, which has been stalled, embarrassingly, in Congress. So the CDC can do what it can with what it has. Luckily, makeshift testing centers have been popping up all around the island, in schools and other public buildings.
Also, the Puerto Rican government runs a handful of clinics for women and almost 90 percent of Puerto Rican women use them on the regular. So clinic staff members making calls to inform women about Zika and urge them to get tested and take precautions is easy. Alerting women is easy, but stopping the spread is still hard.
Puerto Rico declared a health emergency this week, which lets the island hire people to help with mosquito control and outreach and education efforts. It will also mean they can transfer money around to researchers working on a vaccine. Most importantly, it will allow them to reassign and health workers and ask for more manpower. Emergency workers are going around to people's houses to cehck for standing water and treat it so the mosquito population goes down.
At this point, the island is not so much focused on ridding the entire island of Zika mosquitos but focusing on the only group the virus really affects: pregnant women. According to The New York Times, there could be "thousands" of Zika infected pregnant women by the time the year it out, though the first cases of microcephaly won't (hopefully never) appear until September or October.
Secretary of Health and Human Services Sylvia Mathews Burwell said, according to USA Today, "This emergency declaration allows us to provide additional support to the Puerto Rican government and reminds us of the importance of pregnant women, women of childbearing age and their partners taking additional steps to protect themselves and their families from Zika."
It's not going to be an easy feat. But with a little more funding and some organization, it's possible that Puerto Rico can start to keep new infections down and pregnant women safe.