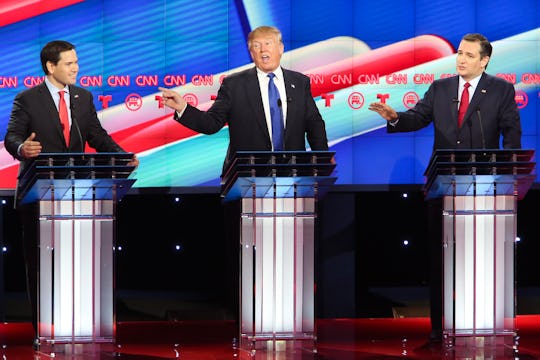 Pool/Getty Images News/Getty Images
How Many Delegates Are At Stake on Super Tuesday? It's Definitely A Major Moment In The 2016 Campaign
We're only days away from Super Tuesday where candidates campaigns will be on the line and good news will turn into great news for a select few who are on their way to becoming the nominee of their political party. It is on this crucial day where candidates will get a much larger idea of how the American people will vote in the primary for the next few weeks. How many delegates are at stake on Super Tuesday? It will definitely be a major moment in the 2016 campaign.
You may ask yourself, what is Super Tuesday? Well, Super Tuesday is referred to as the Tuesday during the primary election where the most states hold their primary elections at once. While other states may have it before or after Super Tuesday, 12 (and one territory) out of 50 states will be holding their primary elections.
In order to win the primary, the Democratic candidate must have 2,283 delegates to win the nomination. To secure the Republican party nomination, the winning candidate must have 1,237 delegates.
On Super Tuesday, 865 delegates are at stake for the Democrats, while 661 delegates are at stake for the Republicans.
So who is at stake on this day? It will definitely narrow down the Republican candidates and there might be a serious cut in who is still running for the Republican party nomination.
Democratic Party
It has been a close race in the polls between former Sen. Hillary Clinton and Vermont Sen. Bernie Sanders. However, Hillary Clinton has picked up a large and significant amount of superdelegates, putting her at a steep advantage over Sanders.
According to the Associated Press, Clinton has picked up 87 more superdelegates to Sanders' 11 superdelegates, putting Clinton with a lead of 481 delegates against Sanders' 55 delegates. Despite leading in the amount of delegates won in the primaries and caucuses, Clinton has the advantage of the superdelegates on her side to put her over the edge.
What is a superdelegate? According to the same AP article, superdelegates are party leaders — members of congress and the Democratic National Committee that can support their candidate of choice and give them their delegate vote, regardless of who the primary voters support.
The results from Super Tuesday will have a significant say in who the Democratic voters are siding with in the election, regardless of superdelegate count.
Republican Party
According to Politico, Super Tuesday will be a day that will define the rest of the Republican primary in 2016. Currently there are five candidates in the running to become the elected party official for the Presidential Election. By the end of Super Tuesday, we might see a significant narrowing of that number.
Super Tuesday could potentially bring really good news for Donald Trump, who is currently in the lead with 82 delegates. To put that into perspective, Texas Sen. Ted Cruz who is in second place only has 17 delegates and Florida Sen. Marco Rubio has 16. If Trump were to win a majority of the states on Super Tuesday, the win could put Trump at a large advantage over other candidates.
NPR has predicted four different scenarios that could happen for the Republican Party on Super Tuesday. Each scenario predicts that while Trump may be the favorite in some states, Cruz and Rubio could pull away from his delegate count, taking away some votes that would put him at an advantage over others.
Many agree, however, that Super Tuesday could be the definite end for Dr. Ben Carson who will have a clear picture on how Americans are voting come Super Tuesday.
Images: Instagram