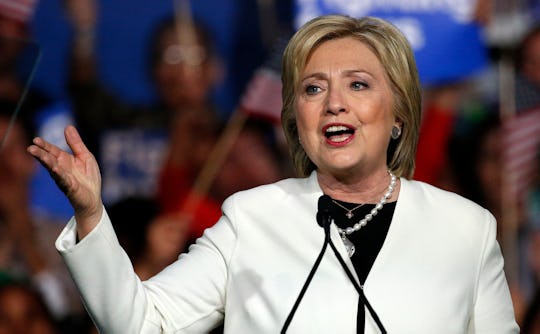 RHONA WISE/AFP/Getty Images
How Many Delegates Does Hillary Clinton Need To Win The Nomination? She's Closing In On The Win
Vermont Sen. Bernie Sanders may have given Former Secretary of State Hillary Clinton a major run for her money this election period, but now that Super Tuesday has come and gone, it looks as though Clinton is closing the gap, and is well on her way to winning the Democratic nomination. But she's not there just yet — she still needs to win delegates in other states to secure the ticket. How many delegates does Hillary Clinton need to win the nomination? According to the New York Post, 2,382 delegates are needed to win the Democratic nomination, and, following some major wins on Super Tuesday, Clinton currently has 1,055, according to CNN. That meant she won about twice as many delegates as Sanders did, the Los Angeles Times reported, including "more than 8 in 10 African American voters," and "two-thirds of Democratic Latino voters in Texas." But, despite her major gains, it might still be months before Clinton becomes the official Democratic candidate for the 2016 presidential election.
The reason? Proportional delegate rules, according to the Washington Post. This means that, for Democratic candidates, at least, delegates are given more or less proportionately to their share of votes in various state primaries or caucuses. This "[makes] it harder to arrive at a winner quickly," according to political scientist Josh Putnam, but "proportional rules...can make it harder for an underdog to close even a small advantage that the front-runner develops." In other words, while Clinton might still have to wait a while to see her name on the ticket, it's now become much more difficult for Sanders to gain a leg up.
Clinton's big win was clearly apparent in the changing tone of her Super Tuesday victory speech. While the tight race with Sanders up to that point meant that most of her speeches focused on him, her latest speech shifted gears instead to highlight the differences between her campaign, and those of the Republican candidates. Speaking to her supporters, she called out the Republican "us versus them" rhetoric, saying,
This country belongs to all of us...America prospers when we all prosper. America is strong when we're all strong. And we know we've got work to do. But that work is not to 'make America great again' — America never stopped being great. We have to make America whole.
But for his part, Sanders insists he's not ready to give up fighting for the nomination. According to CNN, Sanders plans to continue campaigning right to the end — and thanks to his majorly impressive fundraising efforts, he can certainly afford to. And even if it's beginning to seem highly unlikely that he'll win, Sanders believes there is still value in continuing to push Clinton to work harder. At a rally in Vermont Tuesday night (where Sanders beat Clinton), he told the crowd,
This campaign is not just about electing a president. It is about transforming America.
Despite losing ground to Clinton, Sanders also appears to still have incredible influence in the campaign — according to a CNN poll, both Clinton and Sanders would have enough support currently to beat Republican front-runner Donald Trump "in hypothetical general election match-ups." Clinton specifically, according to the poll, beats Trump 52% to 44% among registered voters, and Sanders also enjoys wide leads on all three Republican candidates. But winning might be a bit tricker for Clinton if either Cruz or Rubio secure the nomination: the CNN poll shows that Clinton trails Rubio 50% to 47%, and is almost neck-and-neck with Cruz.
Either way, Clinton definitely has reason to celebrate today, and she likely feels a great deal of relief now that she enjoys a bigger lead over her competitor. The official decision might still not come until the convention in July, but it's looking like, this time, Clinton's name will be on the ticket.