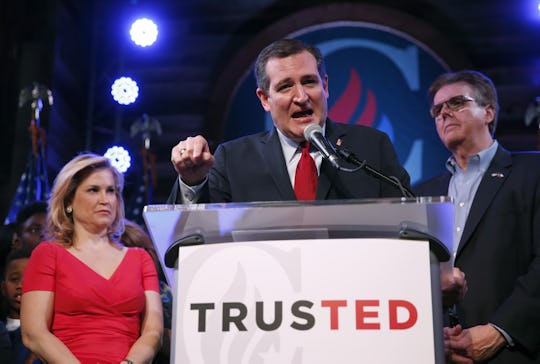 Erich Schlegel/Getty Images News/Getty Images
How Many Delegates Does Ted Cruz Have So Far? He's Down, But Certainly Not Out
As expected, Super Tuesday was a big day for the 2016 presidential candidates. More than any political event so far in this election, it clarified where the candidates stand among voters, and gave perhaps the best prediction to date about what to expect in the months to come. Although Republican front-runner Donald Trump is continuing to overwhelmingly out-perform his competitors, Texas Sen. Ted Cruz is far from being out of the race for the Republican nomination. How many delegates does Ted Cruz have so far? According to CNN, coming out of Super Tuesday, Cruz currently has 205 delegates.
Out of the 1,237 delegates needed to win the Republican nomination, that might not even come close to Trump's current count of 315, but, thanks to three significant Super Tuesday victories — Texas, Oklahoma and Alaska — combined with his earlier win in Iowa, Cruz is still in the game, poised as the only option for Republicans looking to avoid a Trump nomination.
One unlikely Cruz ally echoing this sentiment? Republican South Carolina Sen. (and former presidential candidate) Lindsey Graham. According to Fox News WBRC, Graham has endorsed Cruz as the only option to prevent Trump from winning:
Ted Cruz is not my favorite by any means. But we may be in a position where rallying around Ted Cruz is the only way to stop Donald Trump and I'm not so sure that would work.
From the numbers, at least, it looks like Graham might be right. According to Vox, polls show that fellow Republican candidates Florida Sen. Marco Rubio and Ohio Gov. John Kasich might lose their home states to Trump, which would essentially render Cruz as the last viable option (Cruz, after all, scored a major victory when he won Texas on Super Tuesday). While it doesn't seem like anyone is expecting Cruz to surge to victory over the consistently strong-performing Trump, he might be able to keep Trump from winning enough delegates — which, according to the Washington Post, could lead to a contested convention.
Working in Cruz's favor? His traditional conservatism. According to the Washington Post's Dan Balz,
Cruz can now claim, with more credibility, the mantle of the true conservative in a conservative party against a front-runner with no clear ideology and views at odds with GOP orthodoxy.
But, according to TIME, so long as Rubio and Kasich remain in the running, the anti-Trump Republican vote will stay splintered, which works to Trump's advantage. In his Super Tuesday speech, Cruz himself told the crowd,
So long as the field remains divided, Donald Trump's path to the nomination remains more likely.
Voters certainly seem invested in knowing about viable Trump alternatives: according to CBS News, Google searches about whether or not Cruz can beat Trump climbed by more than 250 percent following Super Tuesday. But, interestingly, anti-Trump Democrats might actually prefer that Trump win the nomination over Cruz, if current polls are to be believed. According to CNN, Clinton is favored over Trump 52 percent to 44 percent, but is actually down when compared to Cruz, at 48 percent to Cruz' 49 percent.
Although Republicans might still be divided when it comes to the best way to proceed, one thing seems certain: all of the candidates are going to have to ramp up their games if they want to keep Trump from landing the all-important nomination.