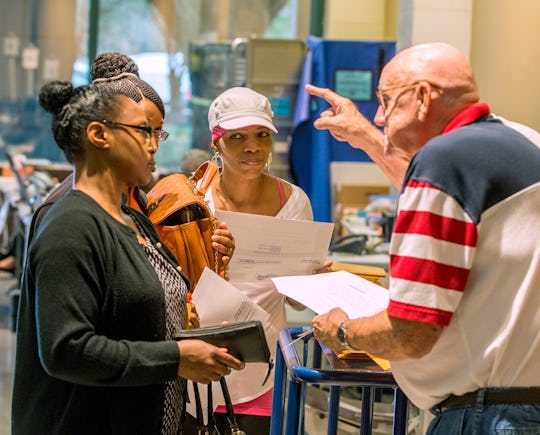 Mark Wallheiser/Getty Images News/Getty Images
How Many Delegates Will Be Awarded On March 15? The Stakes Really Couldn't Be Any Higher
Call it Mega Tuesday or Super Tuesday 2, but make no mistake: March 15 is one of the biggest dates in the 2016 presidential primary season. On that day, voters in Florida, North Carolina, Ohio, Illinois, and Missouri head to the polls to decide between their party's leading candidates. And, in a race that's become part drama, part reality show, the results on Super Tuesday part deux could prove pivotal. Just how many delegates will be awarded on March 15? The results could bring enough party votes to decide who the Republican and Democratic candidates might be.
Or not. Because even with the enormous number of delegates at stake — some 1,058 pledged delegates between the two parties, according to a second NPR report — different state-level rules for how delegates are awarded make it unlikely that a candidate from either side will clinch a mathematical victory by the end of the day.
Mega Tuesday marks the first polling contest between former Secretary of State Hillary Clinton and Vermont Sen. Bernie Sanders since Sanders' surprise win in Michigan earlier this month. Clinton holds a lead in the total number of delegates awarded so far, but another upset by Sanders in any of the Mega Tuesday states could undermine her frontrunner narrative. Though neither candidate will close the day with enough votes to end the race, according to NPR, enough tight contests on March 15 could keep things interesting in the months ahead.
For Republicans, March 15 is far more consequential. Billionaire Donald Trump amassed 470 delegates before Mega Tuesday, compared to 370 for Texas Sen. Ted Cruz, 163 for Florida Sen. Marco Rubio, and 63 for former Ohio Gov. John Kasich, according to the Boston Globe. Polling contests will decide nearly a quarter of the 1,237 delegates needed for the nomination, and, while the Democratic contests award delegates proportionally, the Republican contests are mostly winner-take-all. So while Trump may want to run the board and narrow the odds that GOP leaders would attempt to derail Trump's nomination at the convention, his rivals are hoping to block him with victories in their home states and take away any chance of a clear Trump majority.
So, Super Tuesday 2 or Mega Tuesday is a huge deal in the nomination process. While the math probably won't decide a clear winner on either side, the results from the five polling contests could change the momentum for both sides. But even with a narrowing field and higher stakes, the depressing news is we're a long way from a clear Republican or Democratic candidate. Sigh.